Photography has been slow lately. The last several weeks have been ridiculous weather-wise, plus I've been sick in the last week. I'm itching to get out there, especially since I unexpectedly became the owner of the landscape lens that I didn't think I'd be able to afford for a year at least, a lens that will, without a doubt, push me to the top of the landscape photography elite! More of that in a later post, of course. Today is all about catching up and talking about my summer vacation before it becomes but a distant memory.
If I had been doing this blog for the last 10 years, you might have noticed by now that most of my longer vacations are spent in the US, or Northern Idaho to be more specific. Not this year. This year we settled for a four-day getaway to Edinburgh, Scotland. I had never been to Scotland before, but it felt like a country that would suit me well when it came to things like climate, culture, and not least photographic opportunities.
I was not disappointed by any of those things. Of course, I could have done without the downpour that ruined part of our big bus tour to Loch Ness and the highlands, but oh well. We still had fun.
Anyway, after much consideration I have decided to simply post - and talk a little bit about - my three favorite pictures from the trip, and then add a slideshow video that will give you more of an impression of the whole experience.
The first image was taken on our first night in Edinburgh. It shows a canal near where we stayed. Apparently, the UK is full of these canals with their canal boats (which you will see more of in the video). This quay area with its modern architectural buildings and rustic boats made for a beautiful scene during the sunset, and with fantastic low-hanging clouds to add a little drama.
We returned the next evening because I thought I could do better, but the light wasn't as good, and in the end this image just turned out better than all the others.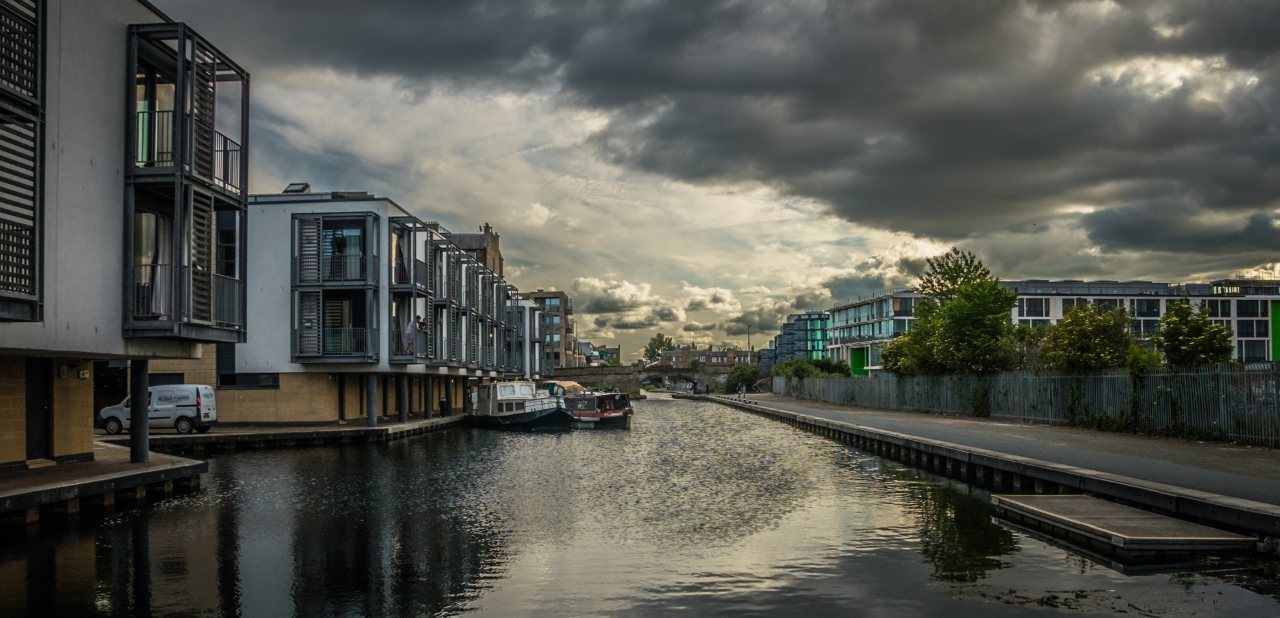 Below is, in my own opinion, a wonderful shot of Edinburgh Castle overlooking the connecting park. It was taken as the sun was setting and as we were walking back to our hotel after a long, long day of exploring the city. Our explorations had taken us all around downtown Edinburgh, including to, and inside, the castle itself. Needless to say an iconic construction like Edinburgh Castle offers countless photo opportunities, and with my usual, "better take 300 pictures too many than one too few"-approach, I couldn't have missed too many of them.
However, for all the architectural details and historical magnificence that the closeups revealed, this image, with the lush, green park contrasting the ragged castle walls, tells the story of how the city is, and always has been, dominated by the presence of the castle, for better or worse.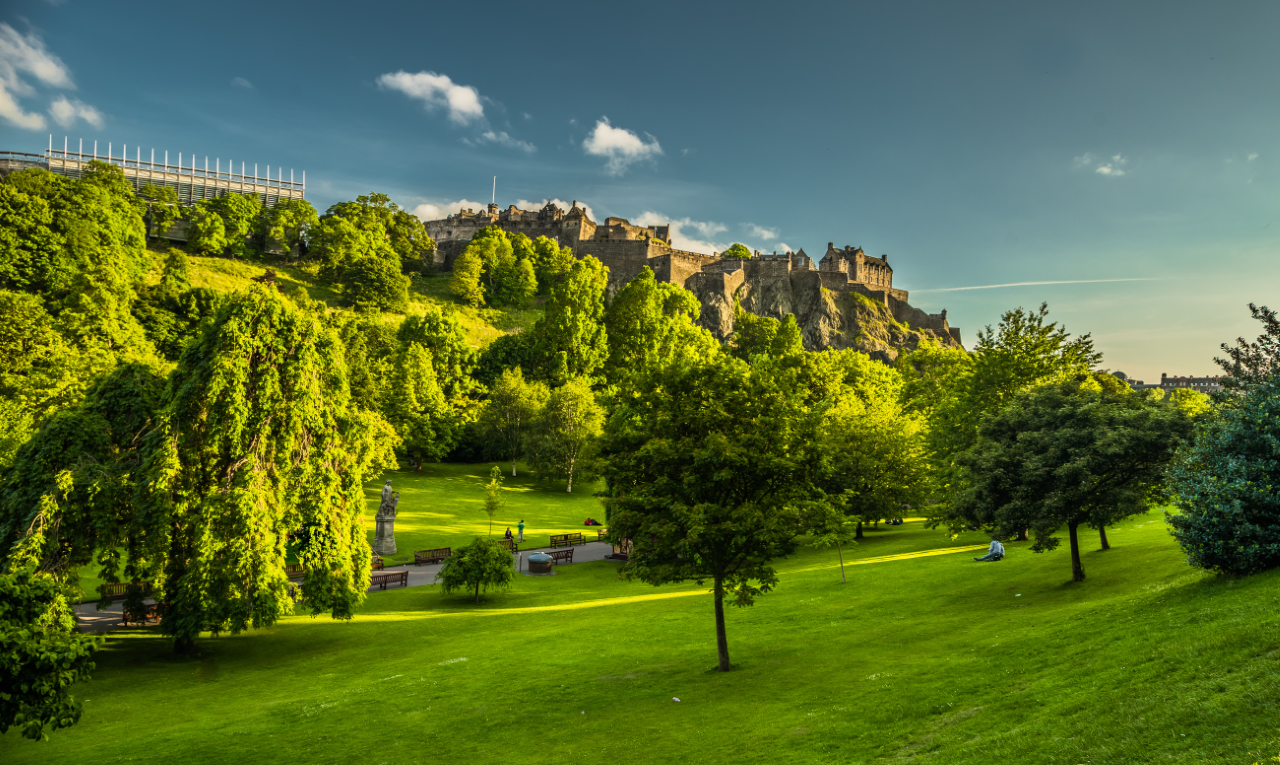 The last of the three images was taken on our last night in Scotland which offered both the photographic and emotional highlight of our entire trip. Almost as an afterthought we decided to climb the famous Arthur's Seat hill overlooking Edinburgh. I had been on one of the neighboring hills two nights previously, and while that had been a good experience and well worth it, I wasn't totally blown away and would not have been too disappointed if we hadn't made it up to Arthur's Seat.
Well, I should have been! Arthur's Seat was a whole different experience. For one thing, you felt like you were at the top of the world. You could see for miles in all directions, and even with loads of other tourists up there, you had a sense of detachment from the real world. I could have stayed up there forever, but good thing I didn't, because then I wouldn't have gotten the below image, which was, in fact, not taken on Arthur's Seat (check out the video for that) but on the walk back down from there.
As soon as I spotted the old ruin a little off the track, I knew I was about to take some of my all-time best photos. Of course, there were plenty of ways I could have screwed it up, but short of a colorful sunset, which we just couldn't sit and wait for, and without a tripod to enable long exposures, I think I did about as well as could have been expected, which was pretty damn good. The dramatic clouds are a fine replacement for a sunset, and the image just has a feel of raw, ancient history of kings, wizards, religion, and long lost culture.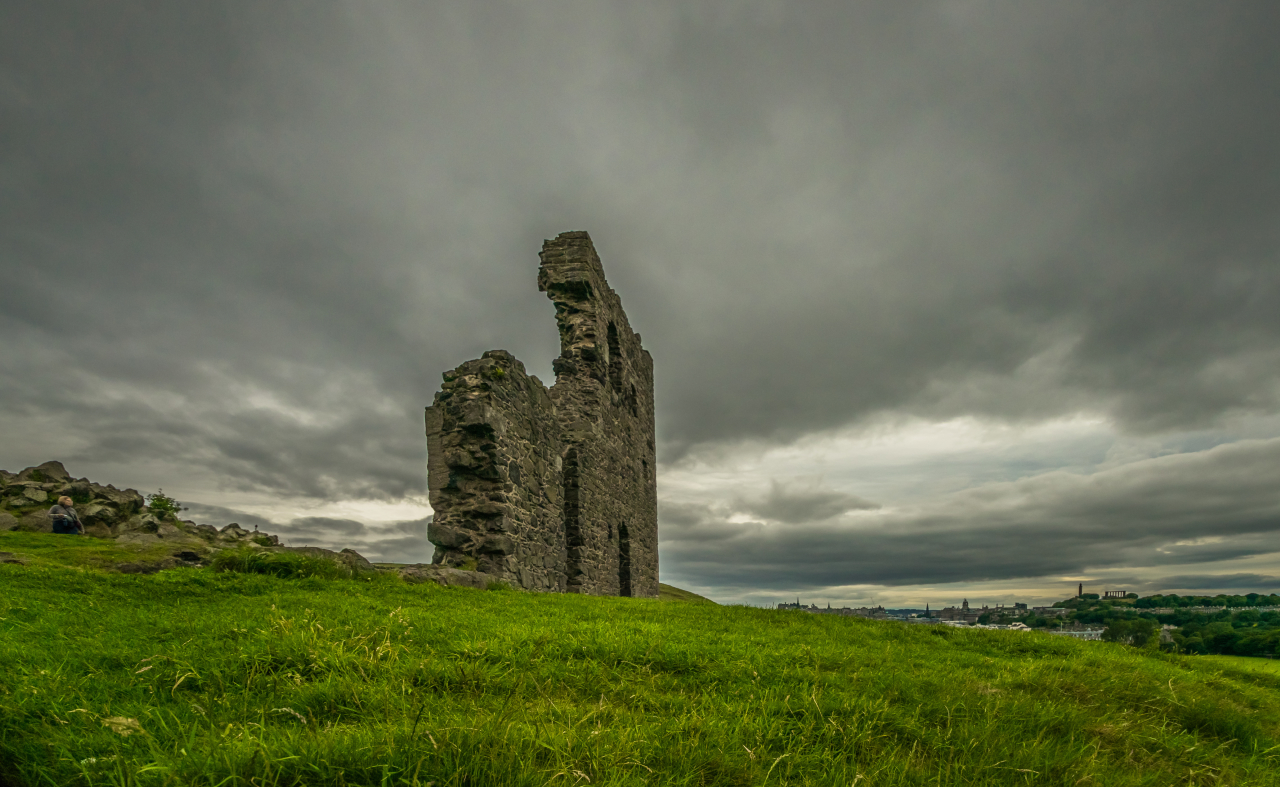 Of course, you didn't really expect me to only show three pictures from Scotland, now did you? The only reason I can limit myself to that is that I also made the below slideshow featuring another 80 or so images from four amazing days. You may want to make the player a little bigger and you definitely want to turn up the sound so you don't miss the beautiful music.
It's been a while since my last post here. Not for lack of picture-taking or writing-desire. On the contrary, during my annual voyage to the United States (with side trips to Canada and Iceland) in September, I took a couple of thousand. So instead of blogging, I have actually been busy selecting, post-processing, and organizing those pictures.
Out of the approximately 2000 pictures taken, I have saved around 400 to what I call my Master Collection. They are the pictures that I like, as well as those I want to keep for other reasons, like an important moment captured.
The challenge is to present some of those pictures. When you are an amateur photographer you go back and forth between loving and loathing your own work. During the former periods when you are full of confidence in your own skills, you want to show all your pictures to everybody, and you cannot fathom if everybody is not interested in seeing all your pictures. Nonetheless, that's what the experts say: choose a few. And by "a few" they mean less than 50.
Of course, there's no way I can just pick 50 or less, so what do you do? You turn them into a slideshow, or even a movie, and you add music and cool effects, and voila, suddenly 100+ pictures go down a lot easier. So that's what I did, and I am happy enough with the result that I will share it here. I used Camtasia 9 from TechSmith, which I highly recommend. It may be primarily for screen capturing, but it works really well for slideshows too. It's easy to use, and has tons of features and tweeking options.
It should be pointed out that some of the photos used in the video were taken by my wife Peggy and her daughter Jen, who are both much better than me at getting people to pose and capturing those familiy moments that are probably much more important to save than all the landscape pictures in the world.
And while I'm giving credit to others, the music in the video is "Drive All Night" by Bruce Springsteen, "500 Miles" by Peter, Paul, and Mary, and "Way Back Home" by Band of Horses.
Later on I hope to post high definition versions of a few of the pictures included in the video - and possibly some not in the video - that I like and talk more about them and how they were taken.
It was just five months after I got my Sony A33 camera (the one I'm still using today). I really had no clue how to use it. Automatic mode was all I knew. ISO, aperture, and shutter speed? Those were all gibberish to me. So were words like composition and RAW.
So up until then my upgrade from a compact camera to a DSLR hadn't resulted in the expected transformation of my pictures to an array of masterpieces. I probably wouldn't have admitted that back then, just as I have trouble admitting today that I won't be the next Ansel Adams (I'm practically there, right?).
Anyway, so when my friend Brian asked if I was interested in going to Tivoli Gardens for an open-air concert with Danish rock star Michael Falch and that cameras were allowed, I of course said yes. I figured it would be great practice for when Bruce Springsteen would call to make me his official tour photographer.
As for Michael Falch, I can sort of take him or leave him. He plays the kind of no-frills rock that I prefer, and he's made a few pretty decent songs, but not enough to seriously catch my interest. I'm not even going to start talking about how he performed with Bruce Springsteen during the latter's first visit to Copenhagen in 1981, because then we'd stray too far from the topic.
So, to make a long story even longer, that night we found ourselves in the front row in front of the open-air stage inside Tivoli Gardens; and with cameras being perfectly allowed in Tivoli, we were well-equipped and ready for some music and some shooting.
Now, I don't remember if I set my camera to "Automatic with no flash" or "Night Scene". Whatever the case, not even today, with five years of experience, would I have been able to do a manual setting that matched what the camera figured out on its own. And I don't say that often. I usually find that the automatic settings are lacking in one way or another, usually over-exposing the image. But when it came to this low-light-but-lots-of-artificial-light-up-on-the-stage scene, the camera rocked as much as the band.
That night I took in the neighborhood of 200 pictures, and I don't exaggerate when I say that every one of them was a keeper from a technical point of view. And what's more, from an artistic point of view, it may have been 80% of the pictures that were good to excellent. Of course, some of them were very similar, but there was enough variety to make it interesting. It didn't hurt that the show featured several guest artists and thereby offered new exciting motifs on a regular basis.
For that reason, it's been really difficult to choose a limited number of pictures to present here. I did pick a few, but as a bonus I created a slideshow video containing a whole bunch more. Sorry about the length of it, but note that it contains music from the actual show during which the pictures were taken.
Again, being from 2008, don't expect masterful photography here, but I think this slideshow is worth sharing for its drama, owing not least to the soundtrack of Metallica covering Ennio Morricone.
I'm passionate about the Battle of Little Big Horn, so there will be lots of newer and much better photos from that place on this site before too long, but this will do for now.
[huge_it_video_player id="5"]
I don't have a lot of slideshows to put in this section yet, so I had to dig this out from years ago. The photography is not very good. This was before I got a decent camera and before I started to know what I was doing, but it's a great memory for myself and makes me emotional every time I watch it... and every time I listen to that music, which is by Loreena McKennitt.
The pictures were taken during our visit to Yellowstone National Park in August of 2008, my second visit there. We were there again in 2014 where I took much better pictures, but until I get around to posting some of those, enjoy this blast from the past.
[huge_it_video_player id="4"]