Every time I upgrade my camera equipment or achieve some new insight into photography, I joke to my wife that now I have to go back to every interesting place we've ever been and re-shoot all my photos.
Well, last month I got the chance to go back to a place we have been to several times before, but which I never quite conquered photography-wise: Oslo, Norway. Each time we had been there in the past, we'd taken the Copenhagen-Oslo ferry, which is a 16-hour voyage advertised as a mini-cruise. This time was no exception. I love this form of traveling. You can walk around the ship, eat great food, watch the ocean, chill in your cabin, and just relax, knowing that you are completely off the grid out there in the middle of the ocean. When you arrive in Oslo, you have 6-7 hours to explore the city before going back on the ship for the return voyage.
Now, the purpose of this trip was relaxing, first and foremost - not taking pictures. But of course, there's nothing wrong with bringing your camera just in case some good opportunities should arise. And they did... Of course they did. In fact, we hadn't even left the harbor in Copenhagen before I started snapping away from the stern of the ship and captured some of the surrounding architecture.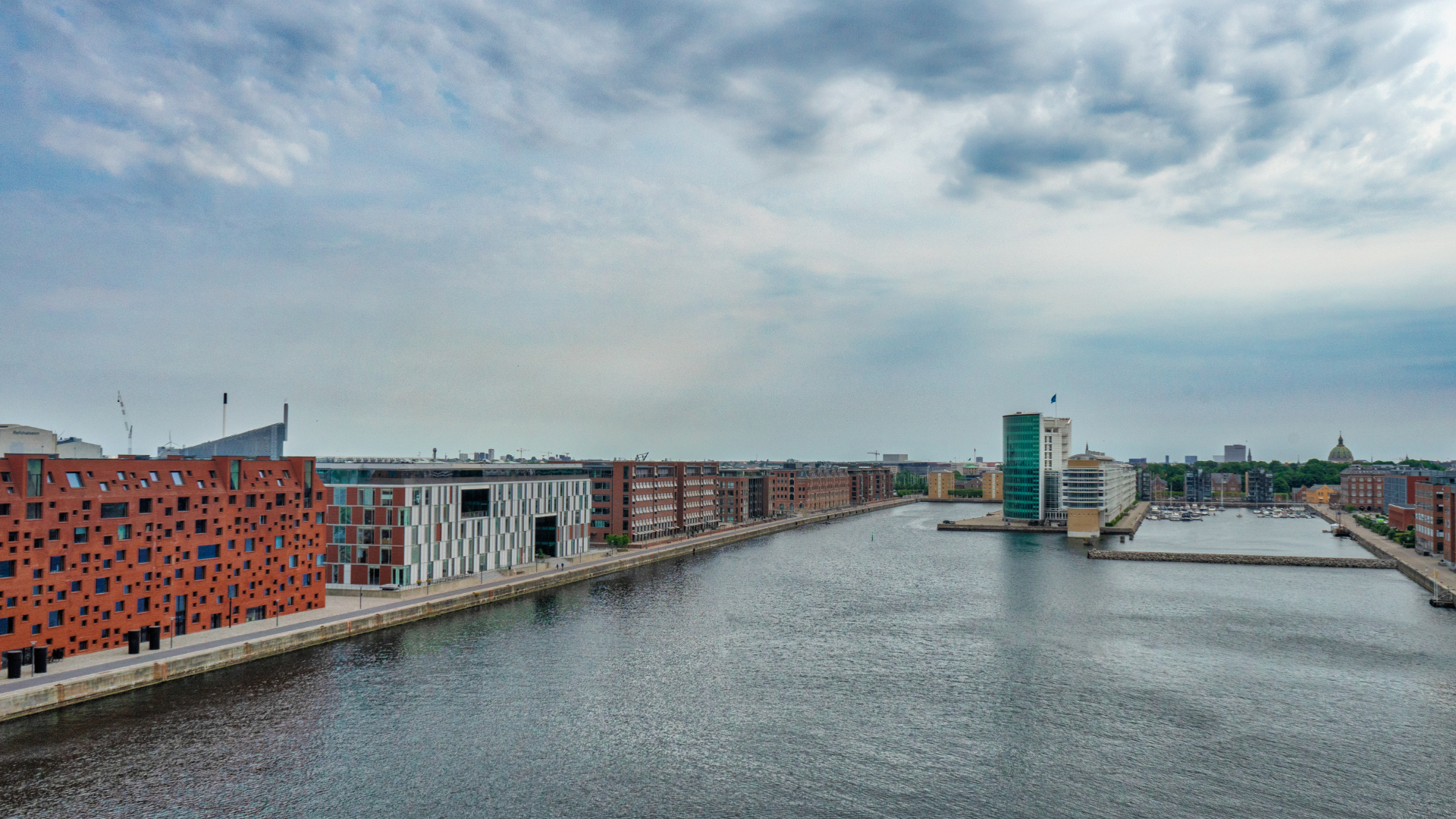 As the ship made its way out of Copenhagen, we passed a few points of interest. First, an old, wooden ship returns to a more modern world.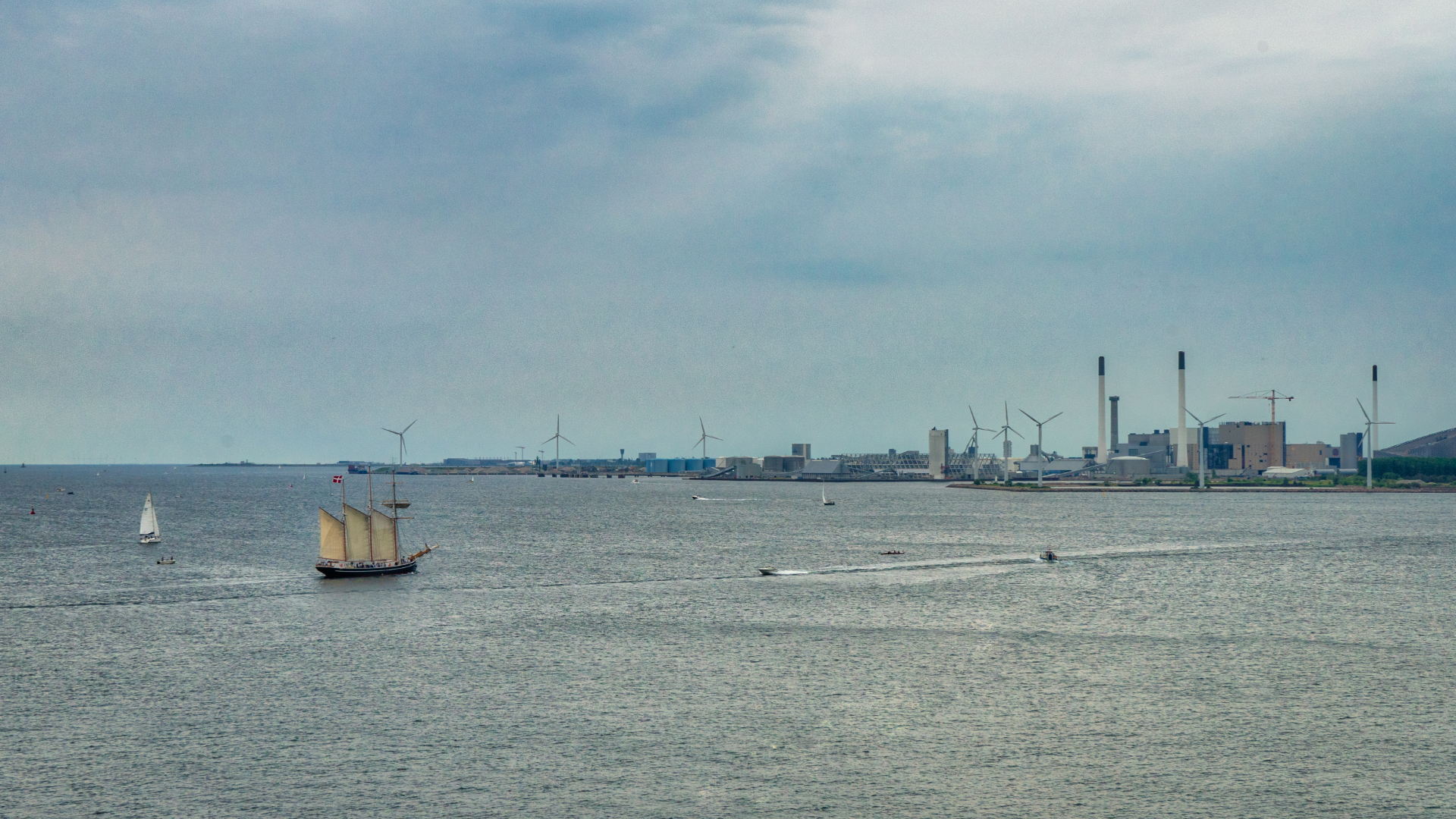 Then, with no time to change to a longer lens, the below image of a long string of wind turbines in the distance would have to do. But I kind of like the minimalism of it and the clouds. Sometimes you have to make the best of what you've got.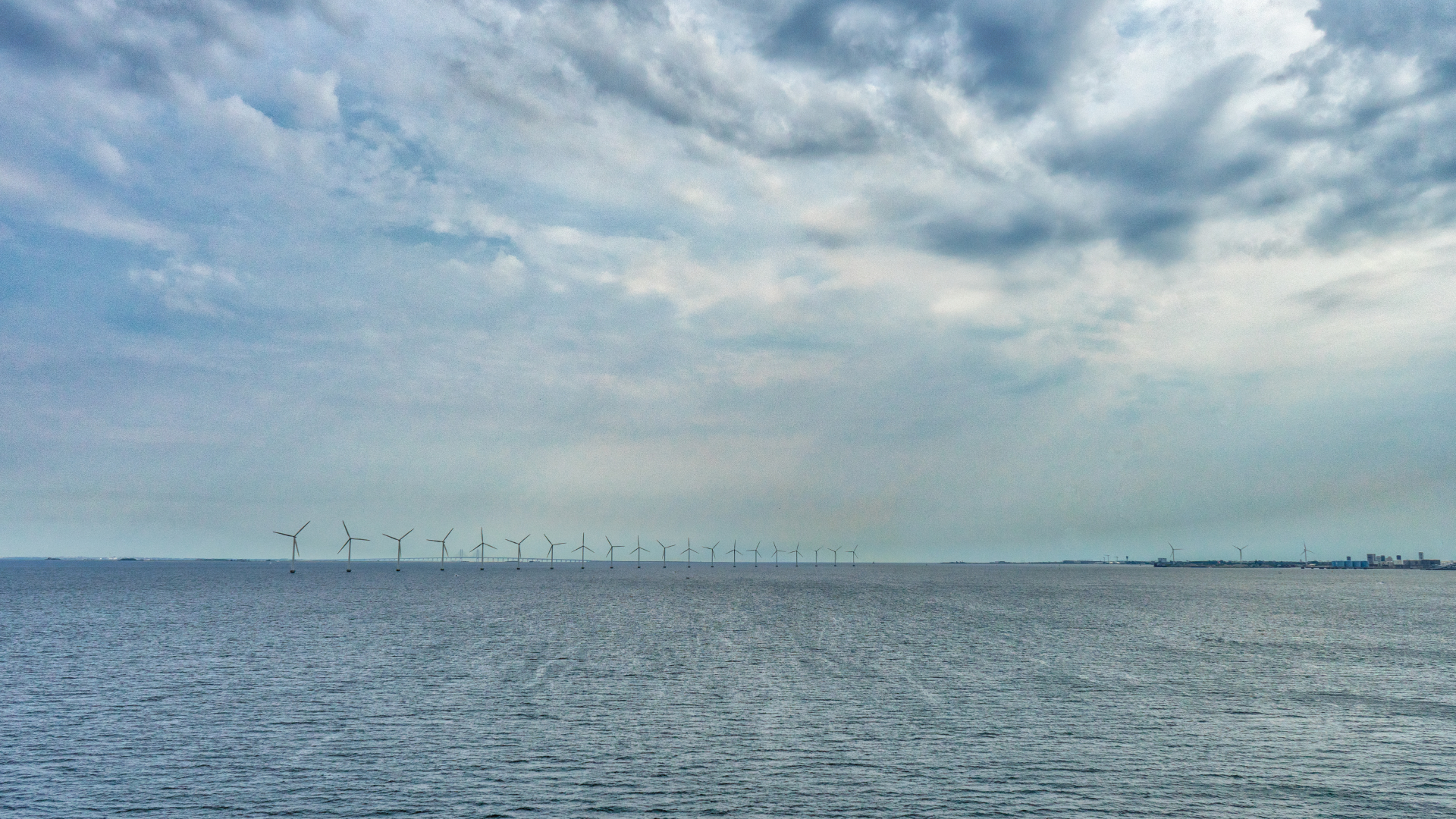 Several hours later, after emptying the famous restaurant Seven Seas all-you-can-eat buffet, we went back on deck to get some air and look around.
With gray clouds having covered the sky most of the day, I didn't have much hope for a sunset, but I got something that seemed at least as spectacular, and something you might only experience at sea: a narrow orange strip of sunlight lined the horizon and served as the backdrop for a couple of far-off freighter vessels. Above the orange light, dramatic storm clouds loomed low. It was an incredible sight. Again, I might have benefited from a longer lens than my 24-70 mm, but the sense of scale may have suffered as a result. Showing how small the ship is in the hands of nature is one of the picture's strengths, in my own opinion.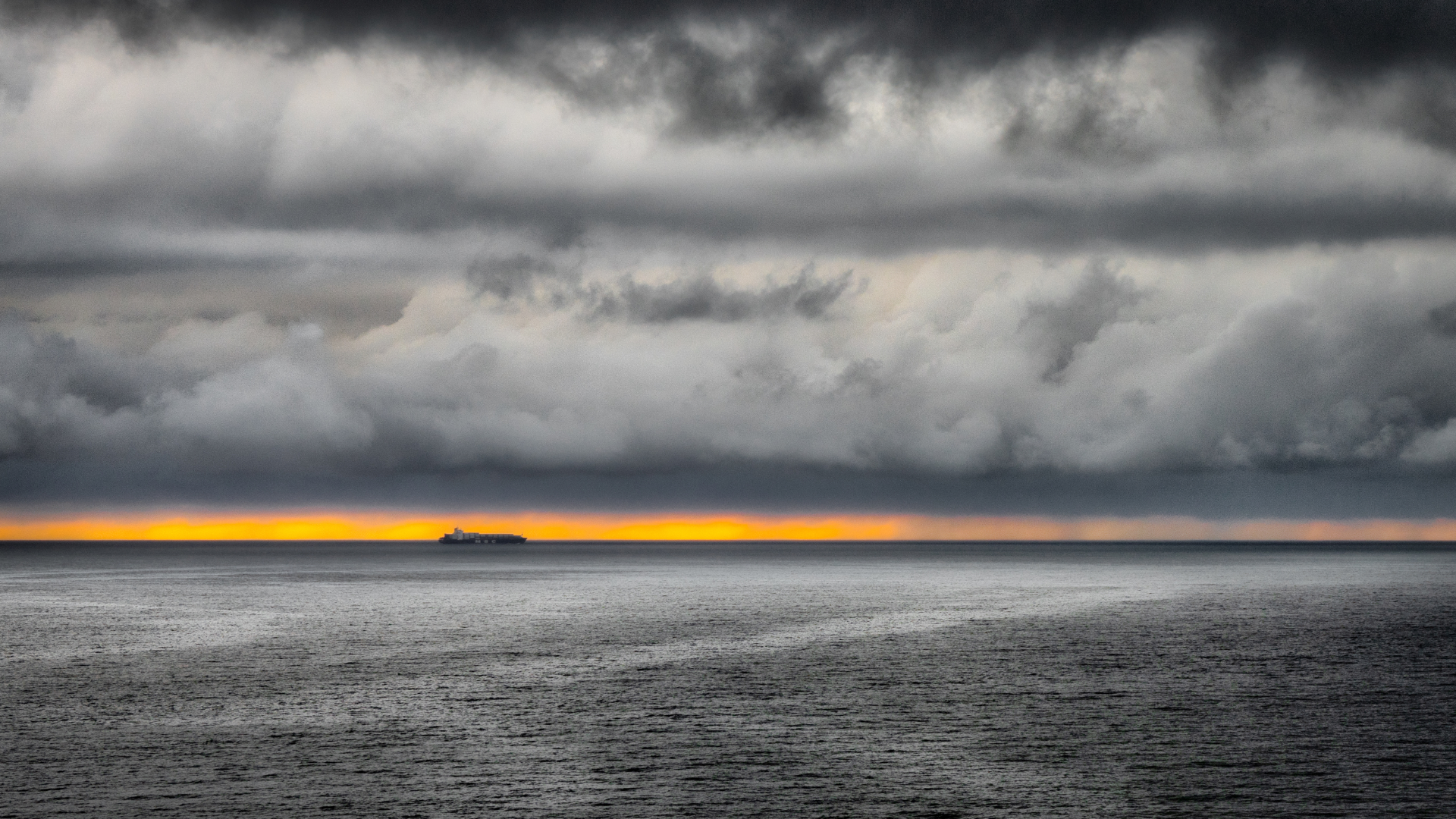 The next morning it was time for one of the scenes that I had been looking forward to revisiting: the approach to Oslo through the narrow parts of Oslo Fjord. Here you pass by small idyllic islands and hills dotted with colorful Norwegian villages.
Unfortunately, while the clouds had scattered somewhat, the sun was already so high in the sky, the light had turned harsh and difficult. I was still using my 24-70 mm kit lens since my much sharper 16-24 mm requires more of a foreground than you will find shooting these landscapes from a ship. I took numerous pictures, of course, but very few of them turned out well. Here's an exception, although it's still not quite what I had hoped for.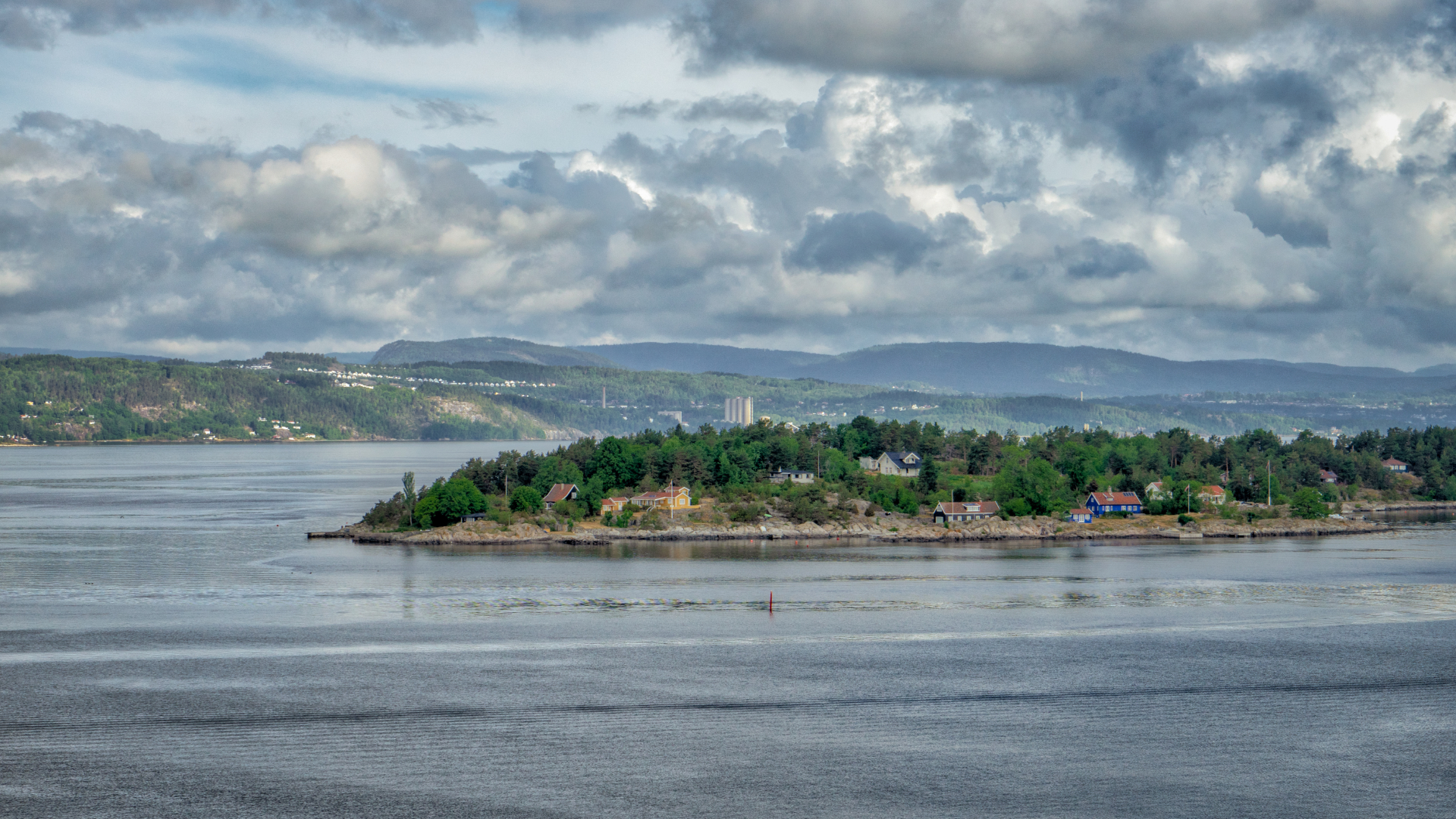 After arriving in Oslo we caught a hop-on-hop-off bus in order to get off at the Vigeland Sculpture Park a little ways out of downtown Oslo. Despite having been in the city several times, we'd always skipped it even though every guide book describes it as a must-see attraction in Oslo.
Well, it turned out the guide books were right. The Vigeland Sculpture Park is definitely worth seeing, even for someone like us who don't get terribly excited when we hear the word "sculpture". First of all, it's huge! You can easily spend half a day there. Secondly, the sculptures are... different. You won't see any statues of kings and generals on horses. Whoever this Vigeland was who created all the sculptures, he had a pretty unusual mind. Some would say pretty sick.
Anyway, from a photography standpoint there were lots of tempting motifs. Plenty of sculptures would have made for interesting subjects. However, to me, just taking a picture of someone else's piece of art is not very appealing. As a photographer you need to add to the experience and create something new by including the surroundings and the atmosphere at that particular moment. And that's exactly what I think I did with my personal favorite image from the park below. It's also one of my rare vertical images.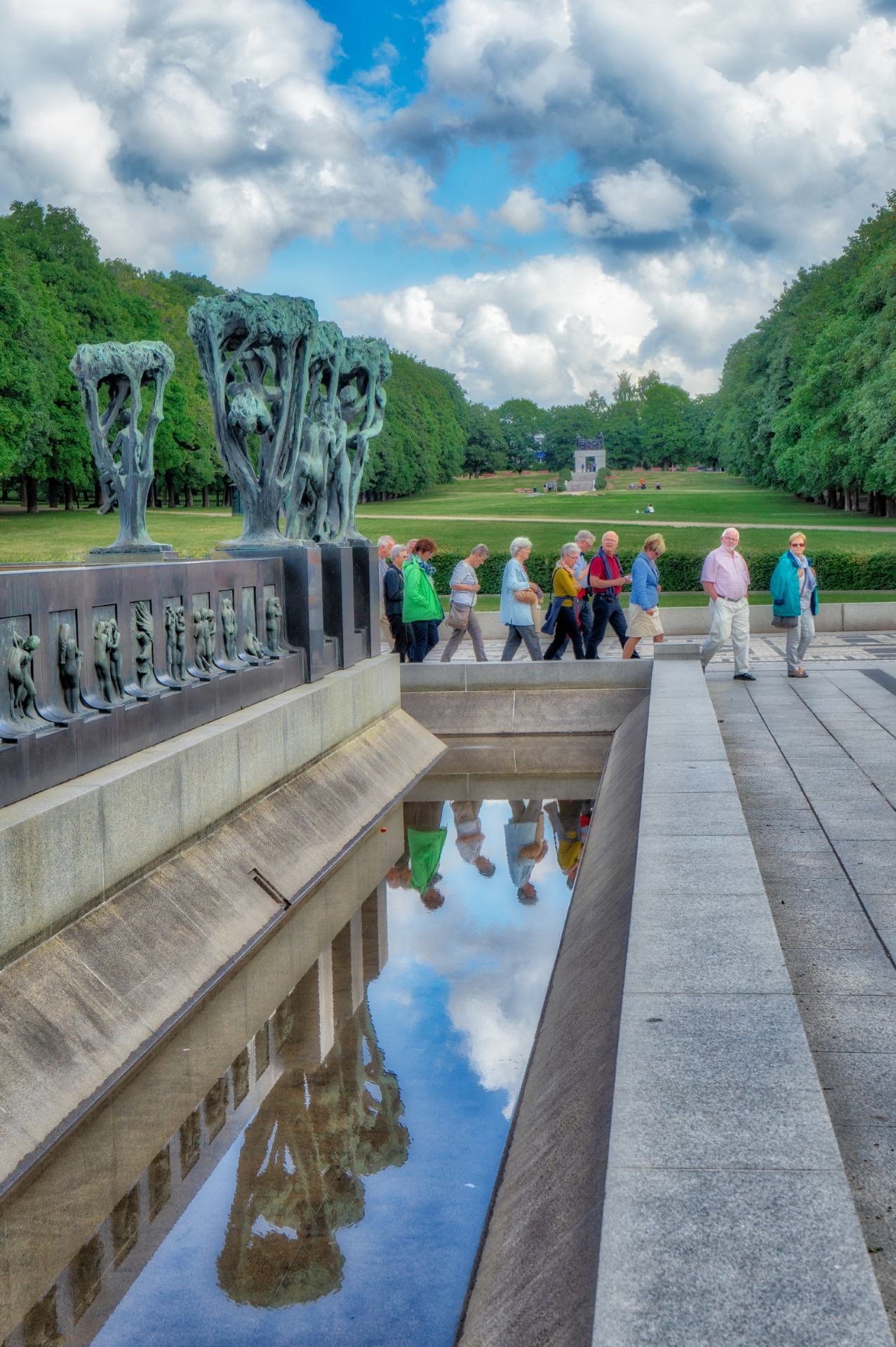 The next image is of a waterfall/fountain in the middle of the park. I didn't bring my tripod - only a monopod - so I couldn't make a true long exposure, which seems to be the agreed-on standard for waterfall photography. Personally, I think a faster shutter speed can be quite impressive too.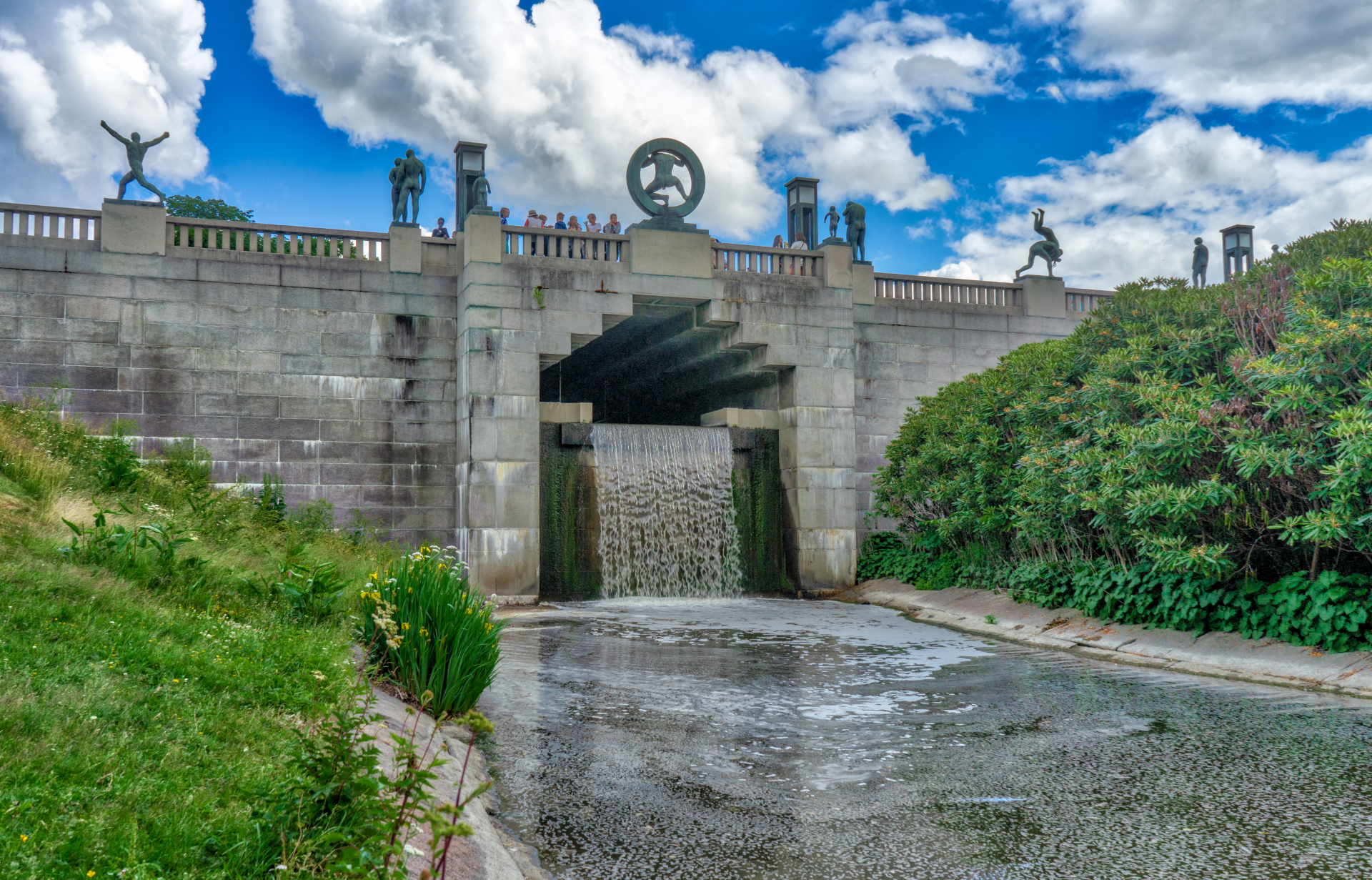 The last image from the park shows no sculptures (except for the tiny ones separating the benches), but there is plenty of beautiful landscaping going on too. This scene was just too beautiful and harmonic to ignore.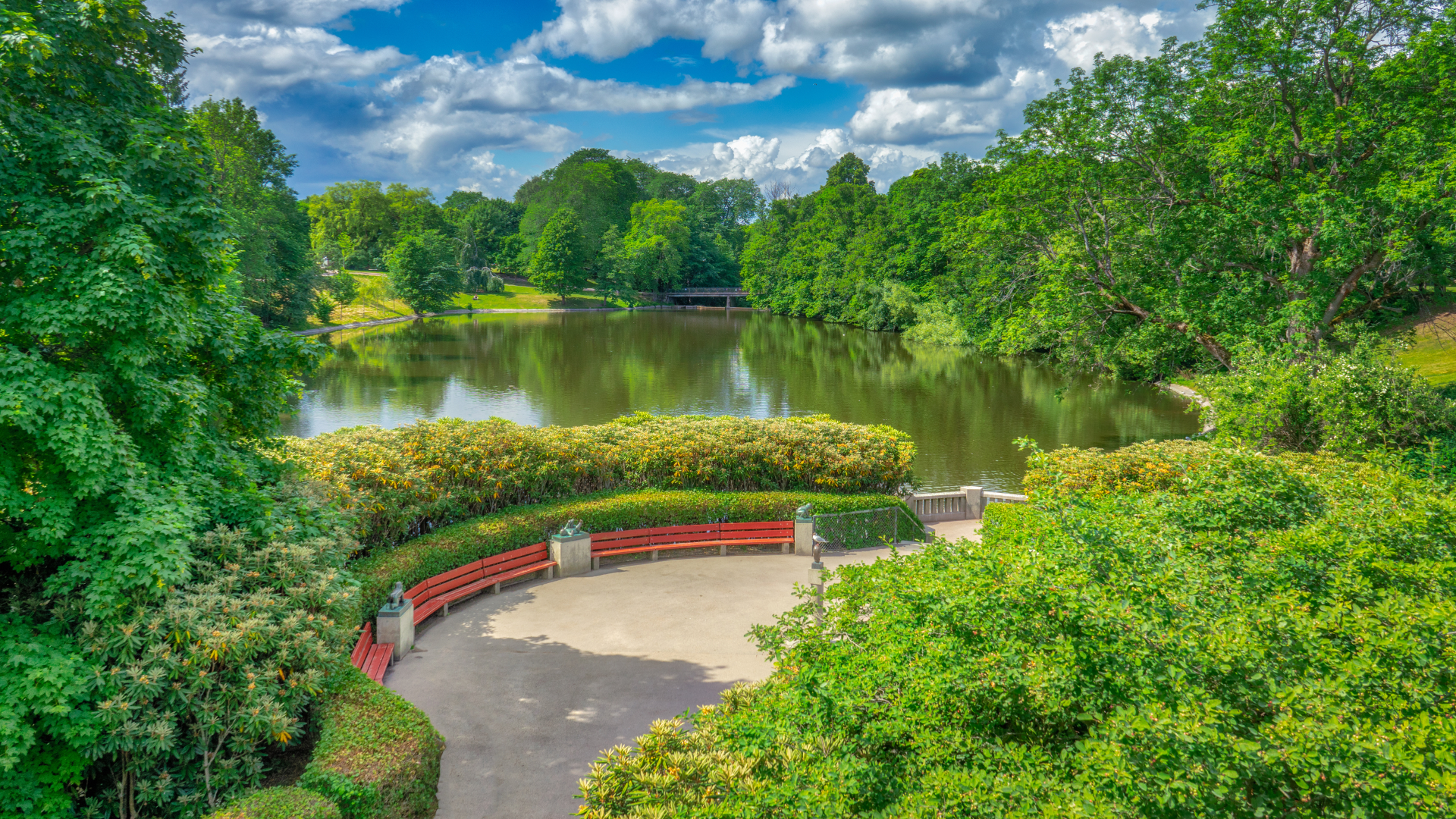 Next stop on our Oslo journey was the viking ship museum, which, like the Vigeland Park, was a first for us. Photography is always difficult inside a dim museum, but I got a few fairly good shots of the ships, including this one.
When we returned to downtown Oslo, it had started to rain so there wasn't going to be much photography happening. I did capture this image of the waterfront area as the rain moved on. By then it was time to go back to the ship, so except for a few more insignificant images from the walk back, that pretty much concluded the Oslo part of our journey.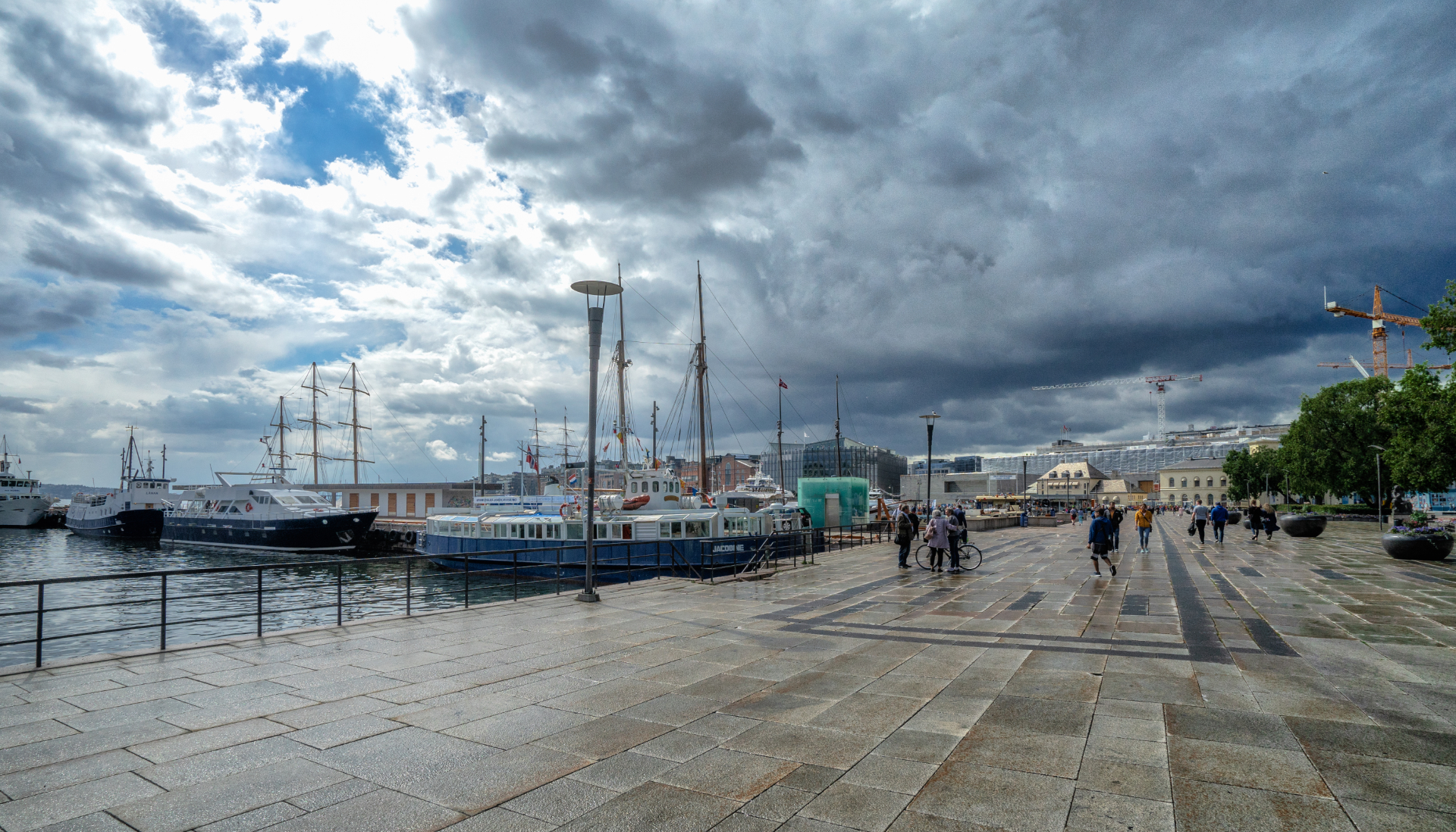 The ship, by the way, was this beauty. It looks impressive, but compared to real cruise ships, it's a dinghy. Still, it was plenty big for us and constituted a fine floating home for us during our voyage.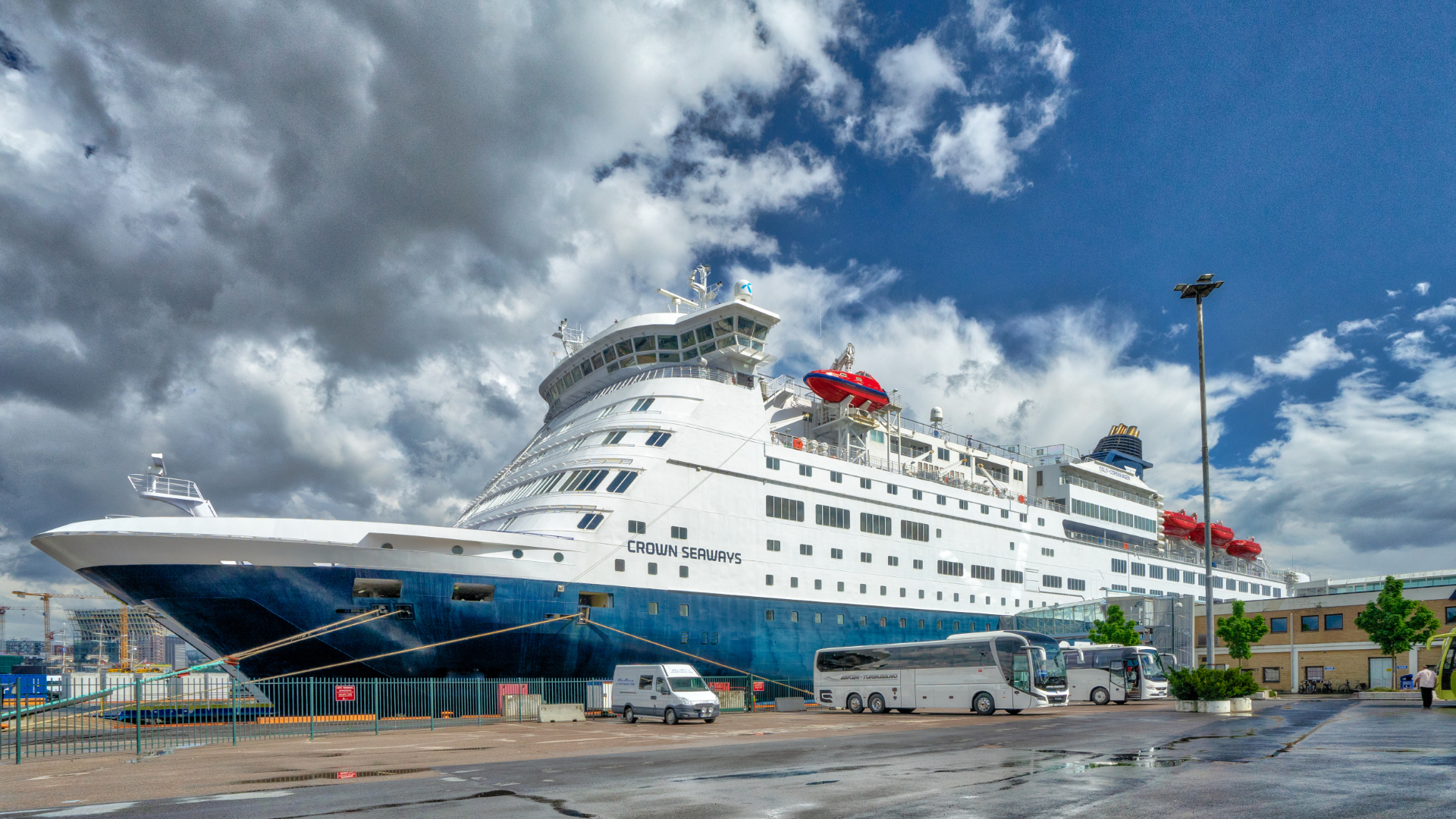 Exiting Oslo through the fjord presented a new opportunity for some great fjord photography, but again, it wasn't really happening. The light was dull, and I was again struggling with the dilemma of whether to use my sharp Sony 16-24 mm lens, resulting in distant subjects, or my 24-70 mm kit lens that may bring the subjects more forward, but is just visibly inferior in image quality.
In the below image I obviously used the former, and it works okay with the clouds and the little ferry and all, but again... better light, like a sunset, would have done wonders. So, note to self: next time we go on this Oslo trip, make it coincide it with early sunsets and late sunrises. Not that photography should be the main purpose of these trips... Perish the thought!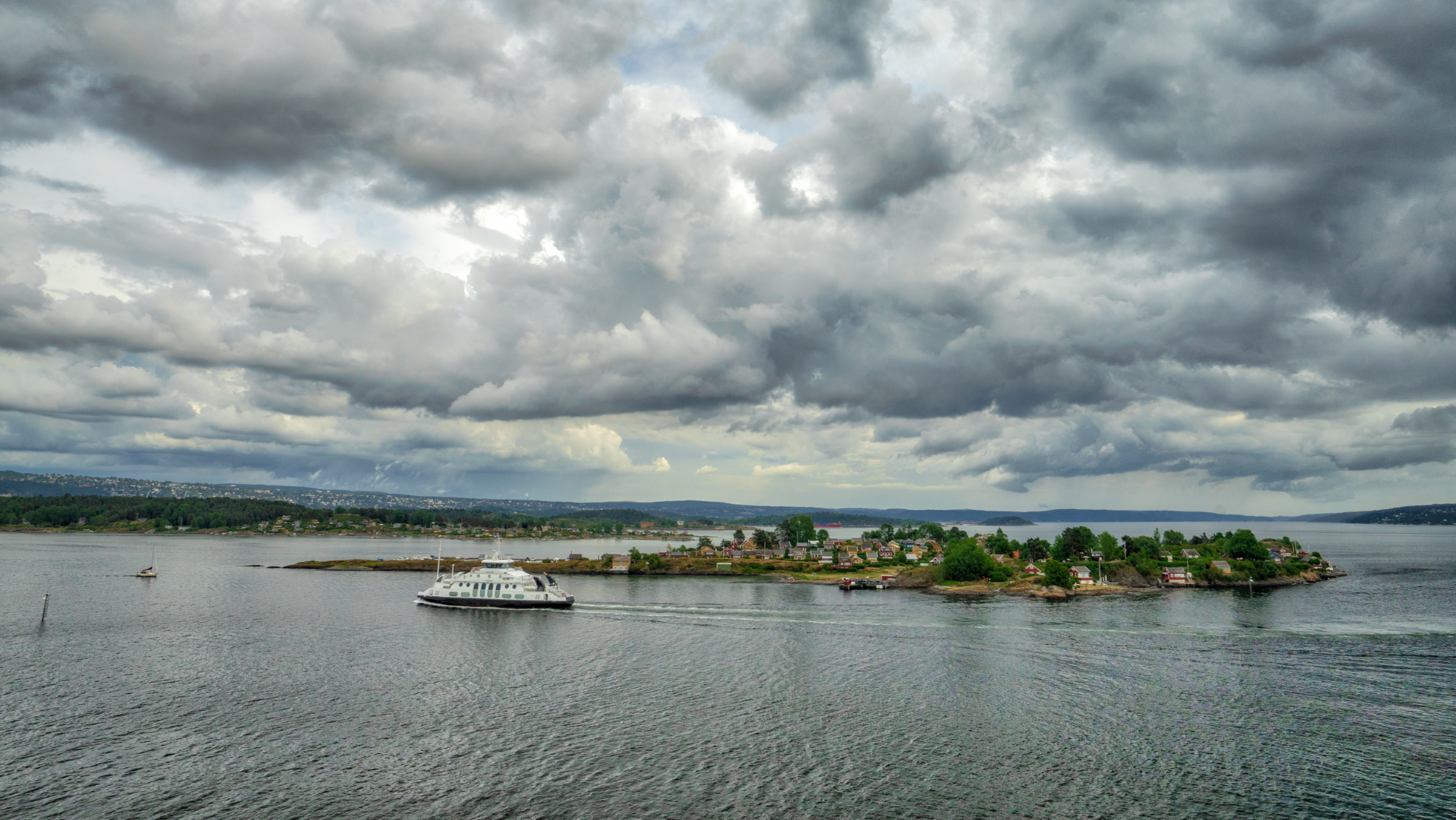 Later on, the restaurant where we were having dinner offered a great view of our trusty ship heading towards a storm. This is a picture taken with my cell phone as I didn't have my real camera on hand. Still, the result was one of my favorite shots of the day.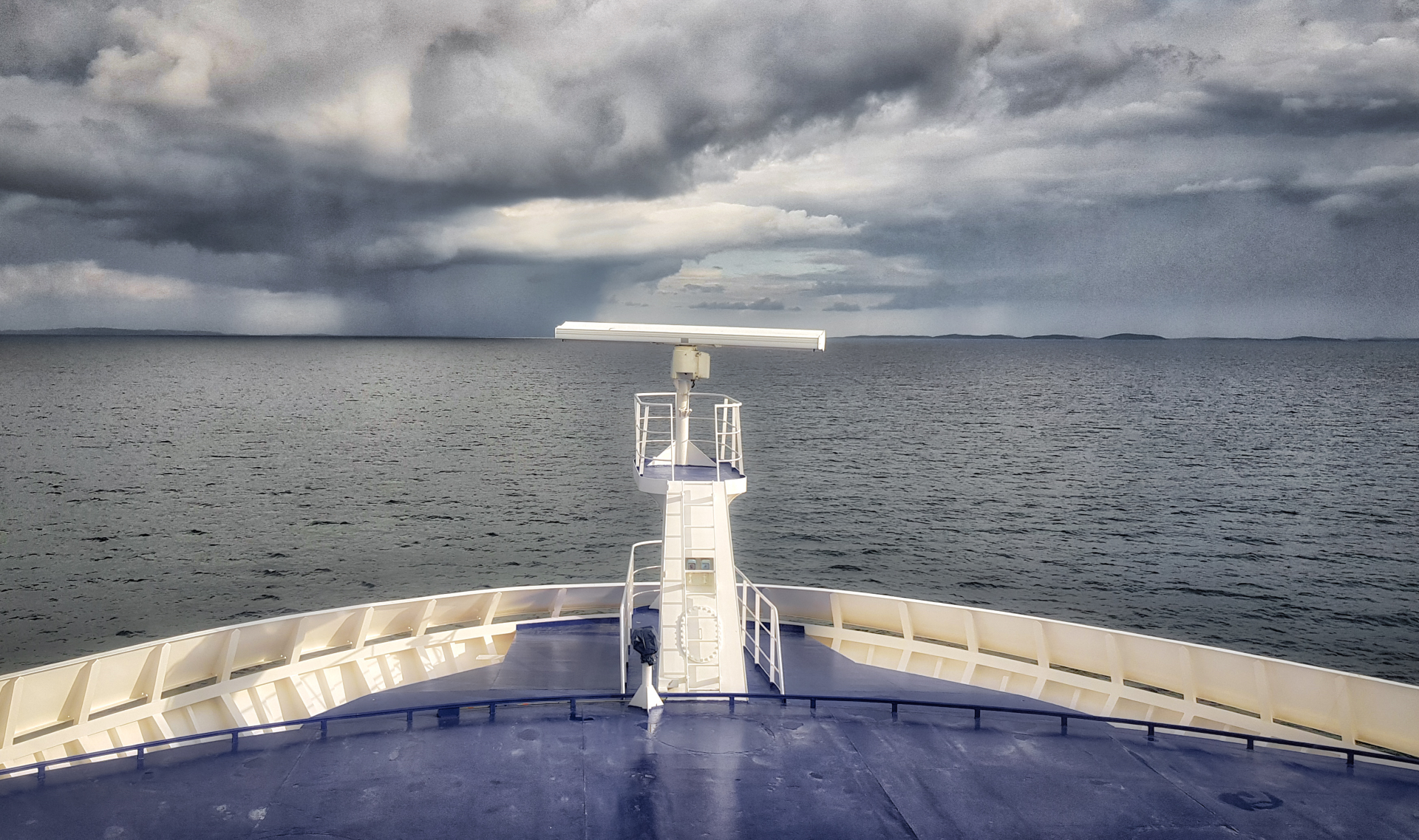 The above picture only marked the beginning of what was probably the photographic highlight of our two-day excursion. After dinner, like on the previous night, we went up on the deck to catch the sunset, and this time our faith was rewarded. I took numerous pictures as the sun disappeared below the horizon, but these two tell the story of a magical evening that put a perfect end to our trip.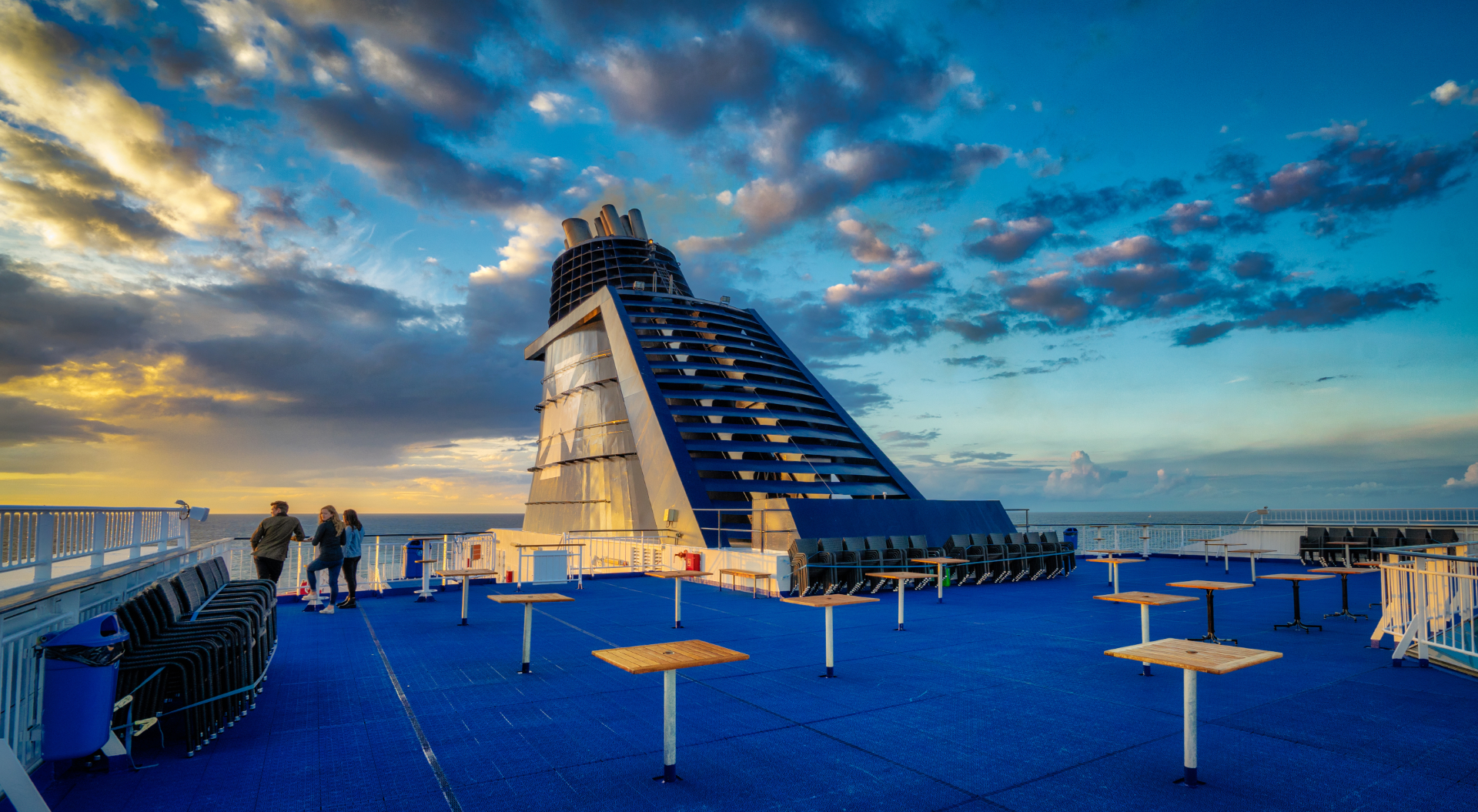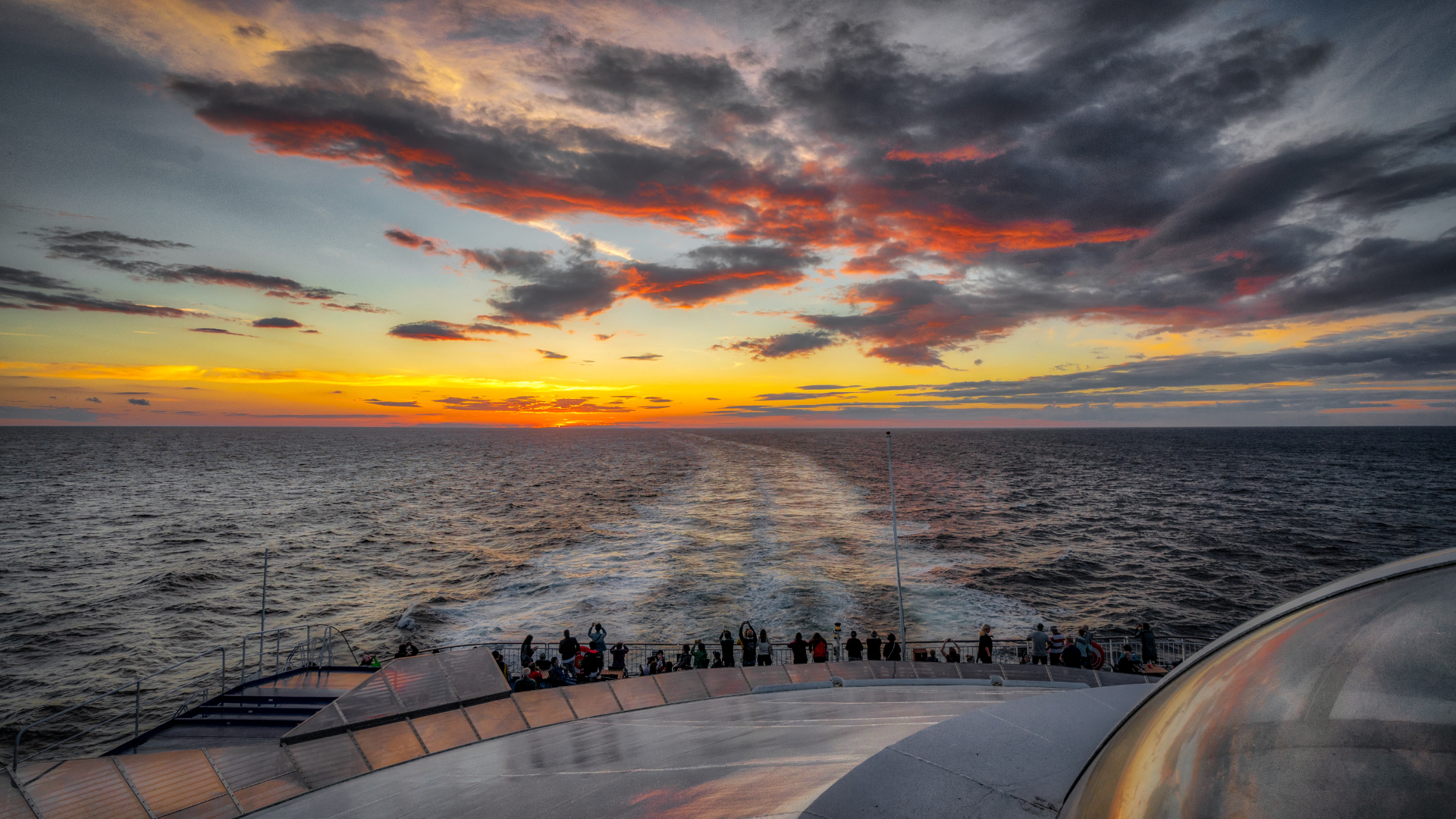 Actually, it wasn't quite the end. We still had one sleep left before arriving back in Copenhagen, and the next morning we, again, had a little time to go outside. Our intention was to have a look at Kronborg Castle as we sailed past, which we did, but it was too far away for me to get any interesting shots of it. Instead I caught the below image of the Helsingborg-Elsinore ferry tasting our wake.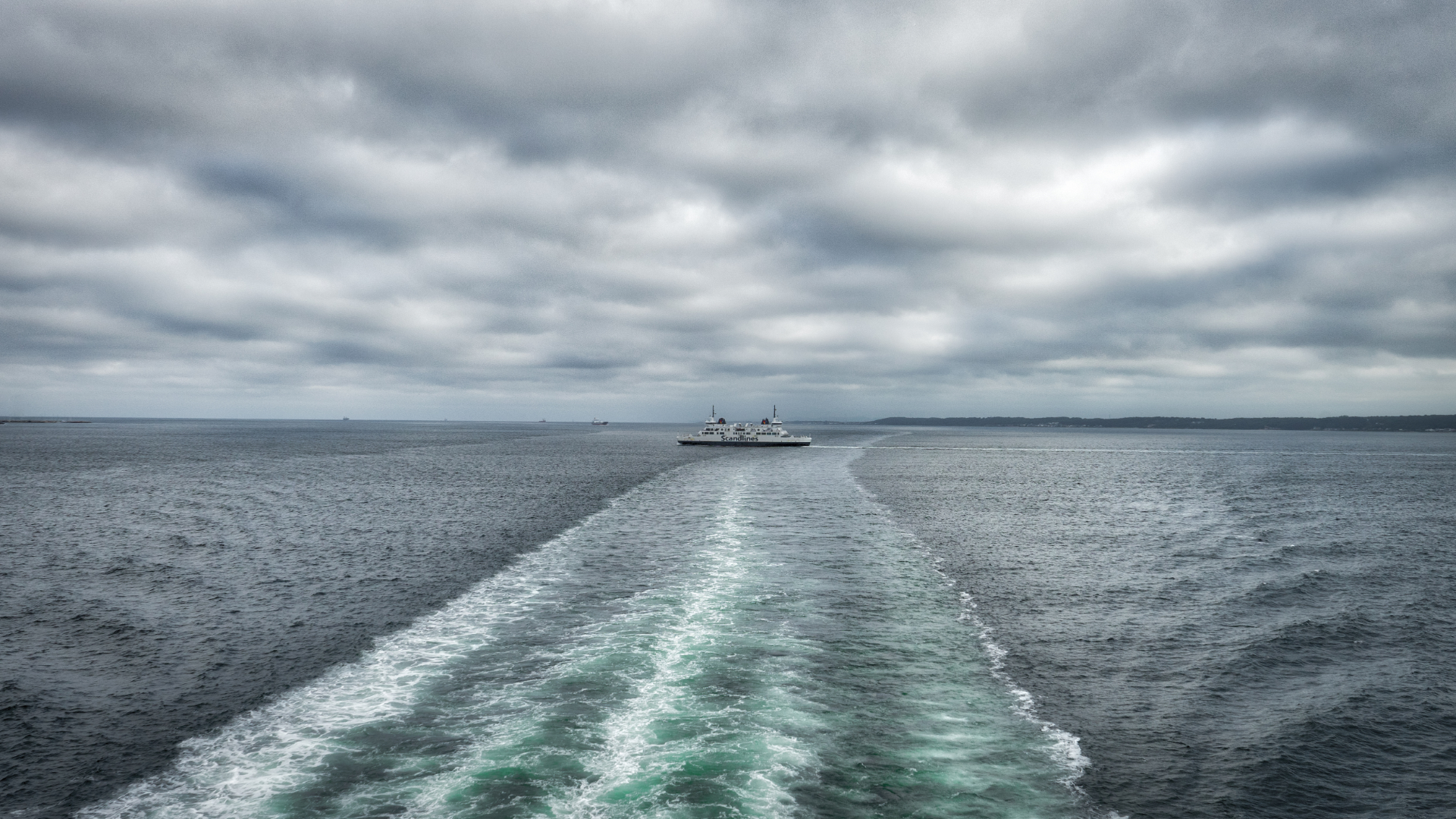 About an hour later we arrived in Copenhagen and departed the ship for the last time. We'd had a great time relaxing and being tourists. Photography-wise I still didn't quite get the ultimate pictures of the Oslo fjord, just as we didn't spend enough time in downtown Oslo to improve on my existing pictures of the city. Still, I was happy with seeing and photographing new locations in Oslo and getting some really nice ocean shots.
I'll be back!
Photography has been slow lately. The last several weeks have been ridiculous weather-wise, plus I've been sick in the last week. I'm itching to get out there, especially since I unexpectedly became the owner of the landscape lens that I didn't think I'd be able to afford for a year at least, a lens that will, without a doubt, push me to the top of the landscape photography elite! More of that in a later post, of course. Today is all about catching up and talking about my summer vacation before it becomes but a distant memory.
If I had been doing this blog for the last 10 years, you might have noticed by now that most of my longer vacations are spent in the US, or Northern Idaho to be more specific. Not this year. This year we settled for a four-day getaway to Edinburgh, Scotland. I had never been to Scotland before, but it felt like a country that would suit me well when it came to things like climate, culture, and not least photographic opportunities.
I was not disappointed by any of those things. Of course, I could have done without the downpour that ruined part of our big bus tour to Loch Ness and the highlands, but oh well. We still had fun.
Anyway, after much consideration I have decided to simply post - and talk a little bit about - my three favorite pictures from the trip, and then add a slideshow video that will give you more of an impression of the whole experience.
The first image was taken on our first night in Edinburgh. It shows a canal near where we stayed. Apparently, the UK is full of these canals with their canal boats (which you will see more of in the video). This quay area with its modern architectural buildings and rustic boats made for a beautiful scene during the sunset, and with fantastic low-hanging clouds to add a little drama.
We returned the next evening because I thought I could do better, but the light wasn't as good, and in the end this image just turned out better than all the others.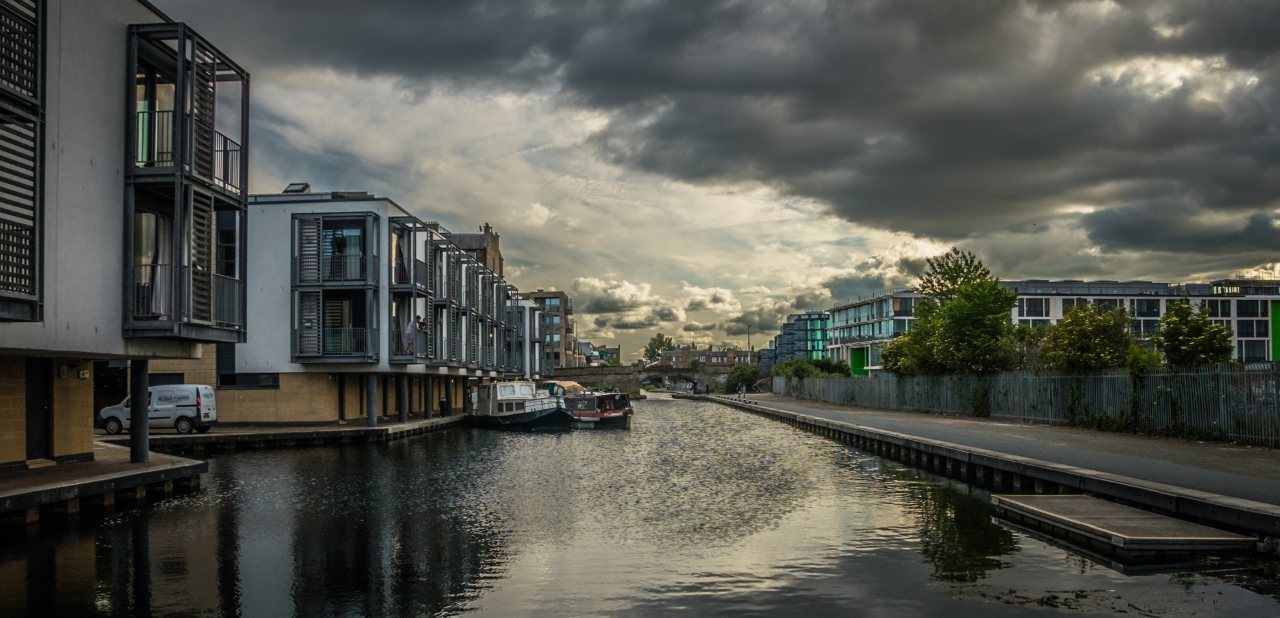 Below is, in my own opinion, a wonderful shot of Edinburgh Castle overlooking the connecting park. It was taken as the sun was setting and as we were walking back to our hotel after a long, long day of exploring the city. Our explorations had taken us all around downtown Edinburgh, including to, and inside, the castle itself. Needless to say an iconic construction like Edinburgh Castle offers countless photo opportunities, and with my usual, "better take 300 pictures too many than one too few"-approach, I couldn't have missed too many of them.
However, for all the architectural details and historical magnificence that the closeups revealed, this image, with the lush, green park contrasting the ragged castle walls, tells the story of how the city is, and always has been, dominated by the presence of the castle, for better or worse.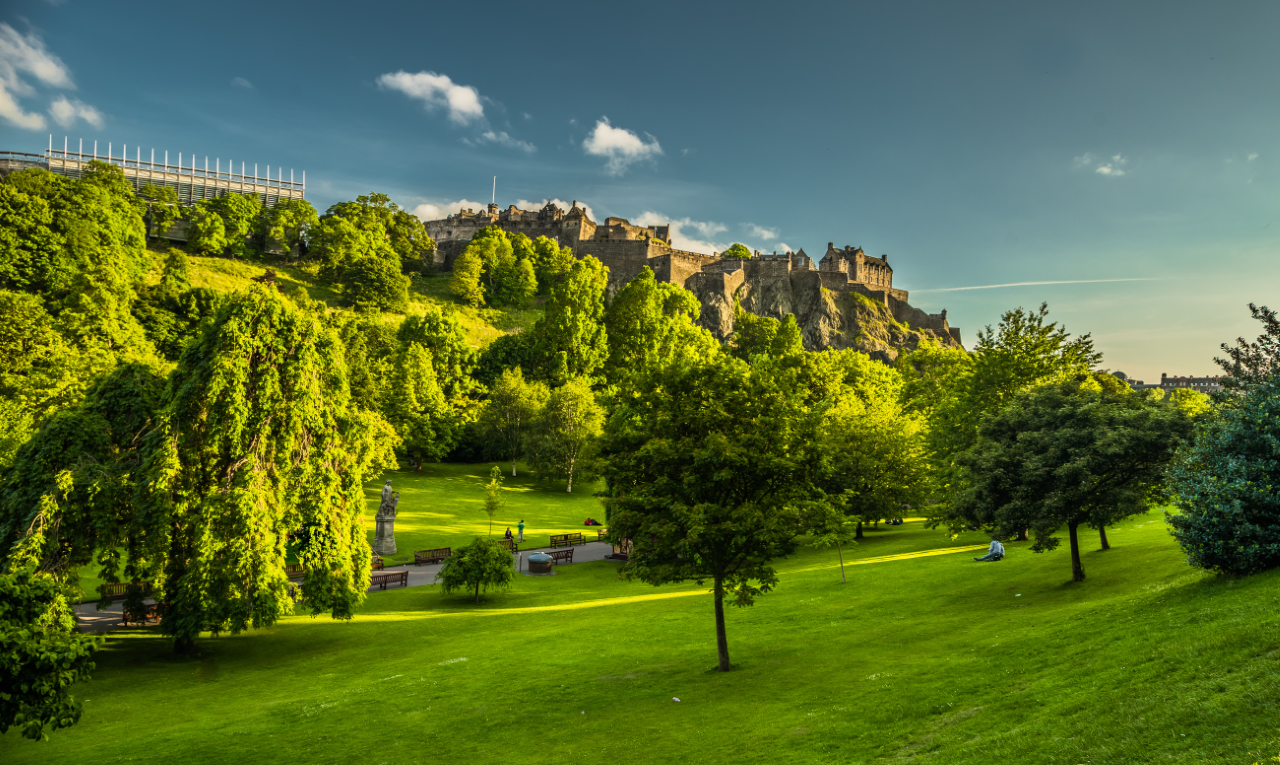 The last of the three images was taken on our last night in Scotland which offered both the photographic and emotional highlight of our entire trip. Almost as an afterthought we decided to climb the famous Arthur's Seat hill overlooking Edinburgh. I had been on one of the neighboring hills two nights previously, and while that had been a good experience and well worth it, I wasn't totally blown away and would not have been too disappointed if we hadn't made it up to Arthur's Seat.
Well, I should have been! Arthur's Seat was a whole different experience. For one thing, you felt like you were at the top of the world. You could see for miles in all directions, and even with loads of other tourists up there, you had a sense of detachment from the real world. I could have stayed up there forever, but good thing I didn't, because then I wouldn't have gotten the below image, which was, in fact, not taken on Arthur's Seat (check out the video for that) but on the walk back down from there.
As soon as I spotted the old ruin a little off the track, I knew I was about to take some of my all-time best photos. Of course, there were plenty of ways I could have screwed it up, but short of a colorful sunset, which we just couldn't sit and wait for, and without a tripod to enable long exposures, I think I did about as well as could have been expected, which was pretty damn good. The dramatic clouds are a fine replacement for a sunset, and the image just has a feel of raw, ancient history of kings, wizards, religion, and long lost culture.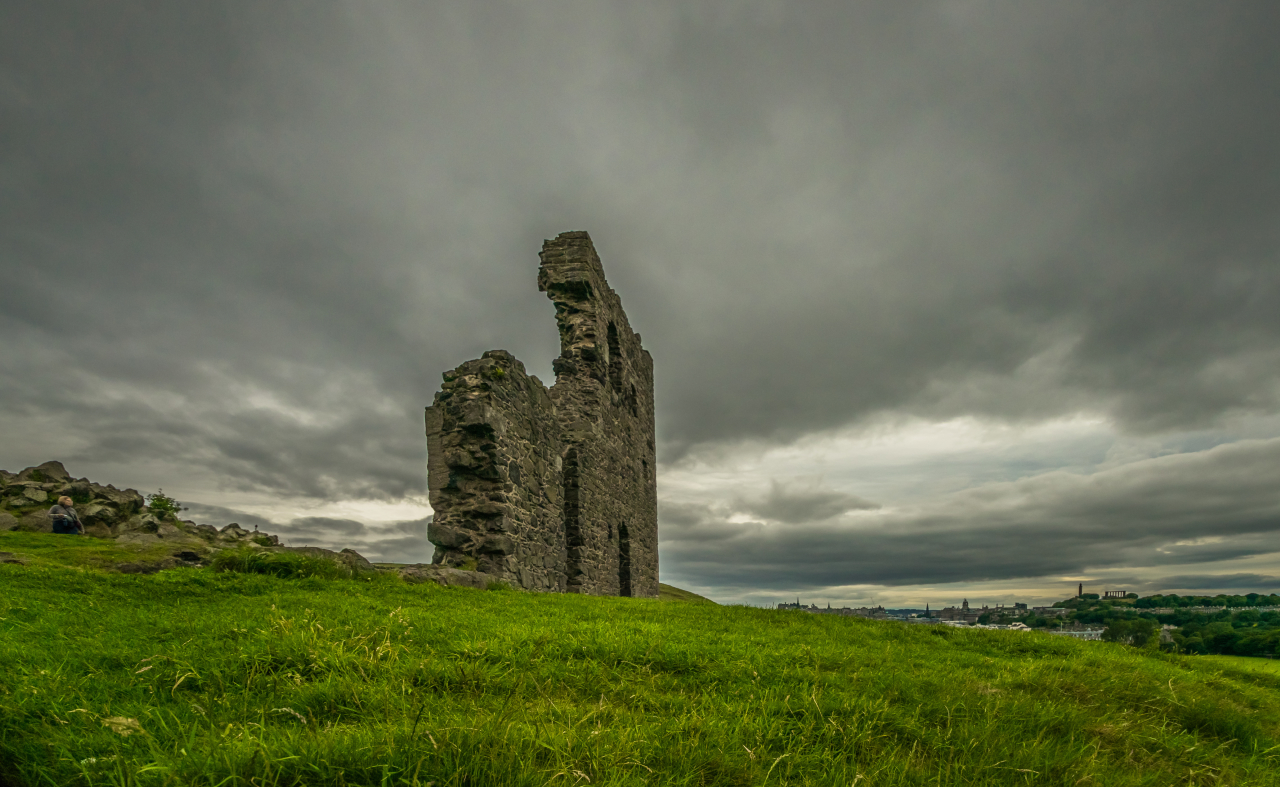 Of course, you didn't really expect me to only show three pictures from Scotland, now did you? The only reason I can limit myself to that is that I also made the below slideshow featuring another 80 or so images from four amazing days. You may want to make the player a little bigger and you definitely want to turn up the sound so you don't miss the beautiful music.
I know, March isn't over yet, but having just enjoyed a one-week March vacation that offered a few opportunities to get some shooting done, I felt it was time to make a status report.
Before my vacation I had grand plans to drive or - in the spirit of spring - ride my bike all over the region and capture nature as it slowly sheds its winter harness.
Well, that didn't quite happen, but I did get out once on my bike. I had high hopes for an area about 7 kilometers away where I'd never been before. Being in abysmal shape, I barely made it there. There was a cold wind blowing, and tons of little hills that seemed to only go up. I had to make several stops on the way to catch my breath check the map and take pictures of the pretty scenery.
In fact, my favorite picture of the day - and perhaps the whole week - was taken at the foot of a hill that seemed like a good place for a short break. It was taken with my cell phone as my real camera was still packed away in its bag, and I couldn't be bothered to get it out. As a true artist I had to take a risk by standing in the middle of the road for a couple of seconds. It was a very quiet road, but behind me was a curve and an underpass that would have given drivers only a short time to react to my presence. Fortunately, no cars appeared, and the shot was in the can and turned out better than expected, although it worked best in black and white.
As it turned out, that would be one of the only pictures of the day worth sharing. The area I'd had in mind was a disappointment. Just some typical Danish winter forest and a swampy meadow with no interesting angles, colors, or lines. The below picture - a cell phone panorama - turned out ok though.
The day before my somewhat anticlimatic bike ride, I had a chance to explore our local castle again. It offers endless photo opportunities, and while I have been known to complain about our nearby landscape's lack of character and photogeneity, I am grateful to live in close vicinity to such an architectural pearl. I'm nowhere near done with it. I haven't even shot it during a real beautiful sunset yet. Soon!
My third and final photo outing during my vacation also went to familiar territory: the Strødam enclosure, where I've posted numerous pictures from before. I keep coming back, because it is actually the exception to the rule that I live in a boring area. I love it there, and despite no great light or other redeeming factors, I was quite happy with a few of the pictures I went away with.
So that was it for my vacation. Not quite what I'd hoped for, but March is still a little early to expect miracles in your landscape photography.
November was a surprisingly active month for me photo-wise. I was out there with my camera three out of four weekends and actually got some pretty decent shots of the neighborhood and a little beyond.
The first three images were taken during a magic afternoon sunset at Strødam where I have posted pictures from before (yes, I trespassed again). They all feature swans, and they were all taken with my cell phone. I did bring my real camera, but the battery died before the magic started to happen in the shape of this flock of swans doing their bedtime routines. Not paying any attention to me standing right there on the shore, they went about their business of eating, chasing each other, and just floating around aimlessly in beautiful formations on the calm water.
The next picture was taken the following weekend and shows our local castle, Frederiksborg Castle. It's one of the most beautiful castles in the country and I have taken tons of pictures of it. However, it had been a while since my last visit so I figured I would find a good spot and hope for a nice sunset. I didn't quite get what I hoped for, but an orange stripe on the horizon along with dramatic clouds saved the day. I'll be back though, because there's a lot more potential in that castle than this image brings out.
Finally, on the last weekend of November, I went back to the Strøbæk area. It still amazes me how you can continue to find new spots and angles on otherwise well-known turf. I have passed this gate numerous times, but suddenly I saw what a fine composition lay hidden there. Post-processing revealed that it worked best in black and white, at least in my own opinion.
My last November fave was taken on the same day as the one above and shows a church in the tiny village of Gadevang, which is within walking distance of my house. It's a typical Danish church and really nothing special, but I think I nailed it. It's actually a stitch of two images as even my wide-angle lens couldn't contain both the foreground and the church in one frame.
It will probably be too much to hope for that December will prove as productive for me as November. Especially since the days are getting so very short.
As a non-religious person my interest in churches has always been... hmm... how shall I put it? ... rather limited. But since my photography hobby got the best of me in the last few years, I have come to appreciate them more... if only as photo subjects.
So the other day when my wife and I went on a weekend excursion to Roskilde, one of the things I was looking forward to the most was to explore Roskilde Cathedral with my camera. Now, Roskilde Cathedral is one of the largest and oldest churches in Denmark where many important people from Danish history are buried, including kings and queens.
Roskilde Cathedral was built during the 12th and 13th century (according to Wikipedia), and while it may not compare with famous cathedrals of Rome or London, it's plenty impressive and listed as a UNESCO World Heritage Site.
We were a little late in getting there so we only had about 30 minutes inside the church before they closed for the day. As we entered, one of the elderly ladies at the ticket desk told me to take my hat off. I obliged, of course, but immediately felt unwelcome and out of place. At first, I was afraid to even get my camera out and get on with the shooting, but when I did, no verger tackled me or grabbed my collar, so I started to relax a bit.
And relaxing was necessary, because I did not bring either my tripod or monopod, and like most churches this one was not well lit, requiring fairly long exposures for hand-held shots of about 1/5 second.
So first we have some indoor shots. The first one is actually not hand-held. I put the camera on the stairs leading up to the chapel and set it to a 2-second time delay.
The second shot is purely hand-held and shows the beautiful chapel.
The next one is a panorama made with my beloved cell phone camera. Normally you wouldn't want people in a church shot, but I think this father and his child grace the image and add just the right amount of disturbance in an otherwise very clean shot.
Another cell phone panorama. I can't get tired of those. Google+ made an automatic version of it that I kind of like, but of course it's a bit too outrageous to put on a serious photo site like this!
The below picture is an HDR shot using three exposures and denoised with Topaz Denoise, which I'm still learning to use. This part of the church is where the famous King Christian IV is buried.
Moving outside the church presented the opposite lighting problem: too much light. The sun was still high in a blue sky and created some harsh shadows that had to be fixed in post-processing.
Even my wide-angle lens wasn't quite wide enough to get the whole church in one shot, so the two first images were stitched together from two images that were shot top-down.
The below image was perhaps my favorite of the day, shot just as the sun disappeared behind that little dome.
Altogether, I was very happy with my output from that day. Still, we returned the next day because of some clouds that were hovering over Roskilde that I thought would add a little extra drama. The last one is another cell phone panorama.
My photographer guru Scott Kelby has written something to the effect that no self-respecting photographer will shoot outdoor pictures in the middle of the day. The blue hour and altogether the light around sunrise and sunset is the only light worth using.
Well, even though he's my guru, and even though I of course agree that those times of day are the best to shoot in, I have two problems with that: 1) using HDR you can do a lot to compensate for the harsh light of mid-day, and 2) if I could only shoot during those early and late hours, I'd hardly shoot at all. I know that part of it is laziness and unwillingness to get up early enough to catch the sunrise, or lift my butt from the couch in the evening. But when photography is not your main occupation, real life just makes it very difficult to get out there with your camera when you ought to. And even if you do have the opportunity, the weather might be a hindrance, especially in a country such as mine where it seems a thick cloud layer will often block any magical light that the sun might otherwise have served you with.
So, I'm sorry, Mr. Kelby, but I will continue to shoot even when the sun is high in the sky and the shadows are harsh and try to make the best of it. That's why the other day I ventured into Copenhagen to spend some time doing a little mid-day urban photo exploration -despite a clear blue sky and Scott Kelby's admonitions - and here's what happened:
The above is a revisit of a motif I shot months ago with my cell phone: the corner of Danish Industry's HQ in downtown Copenhagen. The original picture went on to become my most popular submission to YouPic so far, much to my own suprise. Well, I wanted to do it again with my "real" camera and it turned out pretty well too.

This one is my favorite from that day: the underneath of a new elevated bike path among modern glass facades. Conditions were difficult for taking pictures with, indeed, harsh shadows and even harsher sun reflections in the water. This was put together from three different shots.
One of my goals for the day was to take pictures of trains. I did take a bunch, but nothing too spectacular. This one was my favorite. I love the wide railroad area near Copenhagen Central Station.
Another revisit of a scene I took with my cell phone more than a year ago that turned out really well. This isn't too shabby either. And yes, while I think this mid-day picture is perfectly fine, I can only imagine how gorgeous that glass facade must look in a beautiful, colorful sunset.
A canal in the part of Copenhagen called Christianshavn. The canals were one of my main objectives of the day, too, but I didn't quite find the right spots. This one turned out okay, but the light definitely was a challenge that again required three different exposures put together to overcome the shadows and the highlights.
One of the things I realized on that day was that urban photography is often made difficult because of all the cars that are everywhere and that just get in the way of all the interesting buildings and other objects. Here I tried to make them work to my advantage in how the shiny metal contrasts the old buildings.
Finally, you may ask, where are all the people? Isn't that an important part of taking pictures in the city? Well, maybe. But that's where the landscape photographer in me takes control. In landscape photography, people are usually just in the way. So on that day at least, I avoided places with lots of people. Maybe that will be a challenge for another day.