They say that once every few thousand years, the magnetic poles flip, reversing north and south. What the scientists missed was that the flip took place last weekend, and for a brief period during the shift, positioned the North Pole in Odsherred, Denmark.
As it happened, Odsherred was the part of Denmark where, that very weekend, my wife and I had decided to spend a couple of days away from the humdrum of our every day life and see something new. We ordered the trip a while back thinking the middle of March would be, if not full-blown spring, then at least noticeable more pleasant than the cold winter.
How wrong we were. Even on our way over there during a stop at a small marina, we got a preview of what was to come. The marina was protected from the wind by a tall ridge, but plenty of cold air coming straight out of Siberia reached us to make us shiver and start worrying a bit about what we'd gotten ourselves into.
Still, I managed to get off a few shots of the beach area, in pretty difficult middle-of-the-day-light, including this nice one showing cloud reflections in the reasonably calm water.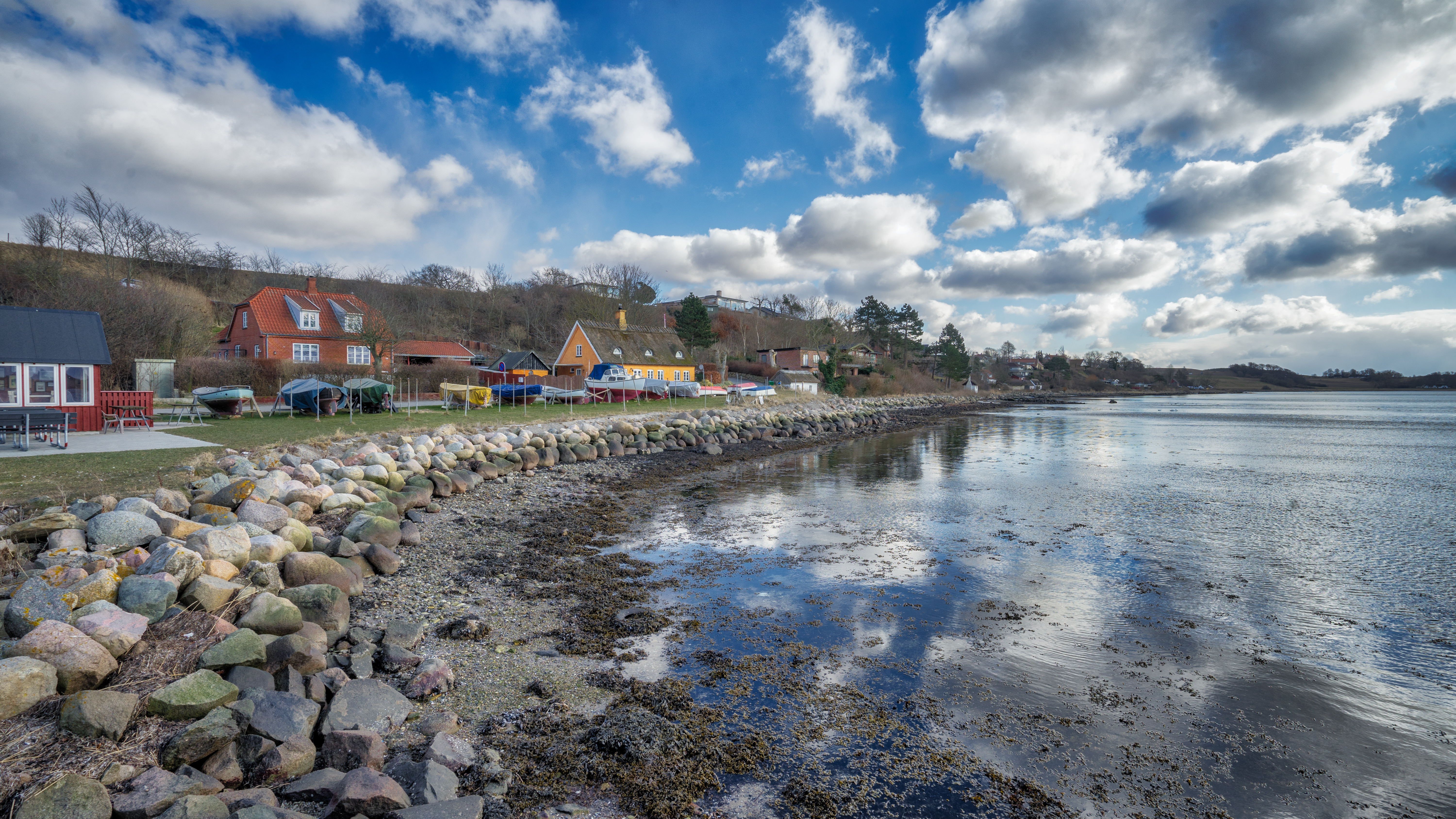 That same evening after checking in to our hotel, we went for a walk in the area near the hotel. The sun was low in the sky and revealed some beautiful scenery with a peaceful lake surrounded by animal pastures. There were no animals, however, as they - or their owners - had realized what perhaps we should have realized ourselves: it was too damn cold to be outside. The photography suffered as a result. There wasn't time for much location scouting, so I wasn't quite happy with the images of what, at first glance, had looked like a slam dunk. This one is pretty nice though, but nothing spectacular.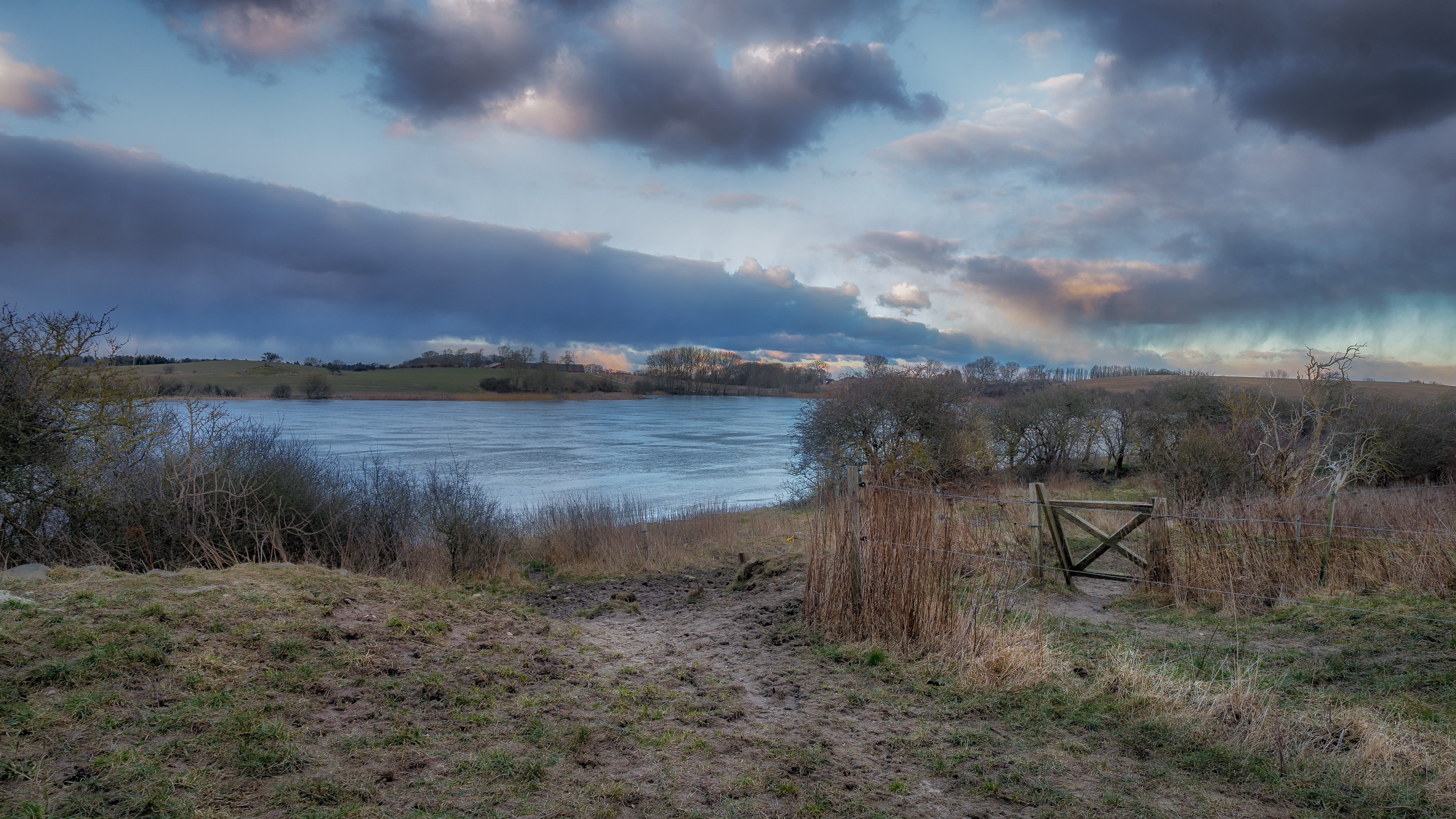 The next day was our only full day in Odsherred. There were several locations I wanted to seek out, most importantly the long strip of land that protrudes from the north-west corner of Zealand and ends in the middle of the ocean. About halfway to the tip, we spotted a parking lot at a beach and decided to get out and take a look.
That's when it happened. Stepping out of the car and down to the beach, the realization that today wasn't just cold cold - today was excruciatingly cold, as in dangerously cold, as in physically painful cold - hit.
It was the wind. It came in from the north-east. 20-30 kilometers an hour, multiplying the -5 degrees Celsius by 4-5 times. It cut through my knitted hat like a knife and into my skull, instantly setting off a brutal headache. But still I persisted. The scenery was too spectacular to miss. Wave after wave came rolling in, crashing against rocks loosely spread along the beach, white clouds drifting across the blue sky. I ran back and forth, shooting one image after another, the freezing wind mutilating my face and hands like an ice-shooting blowtorch.
It paid off. The best image of the entire weekend was shot here on this North Pole beach. Several others were almost as good.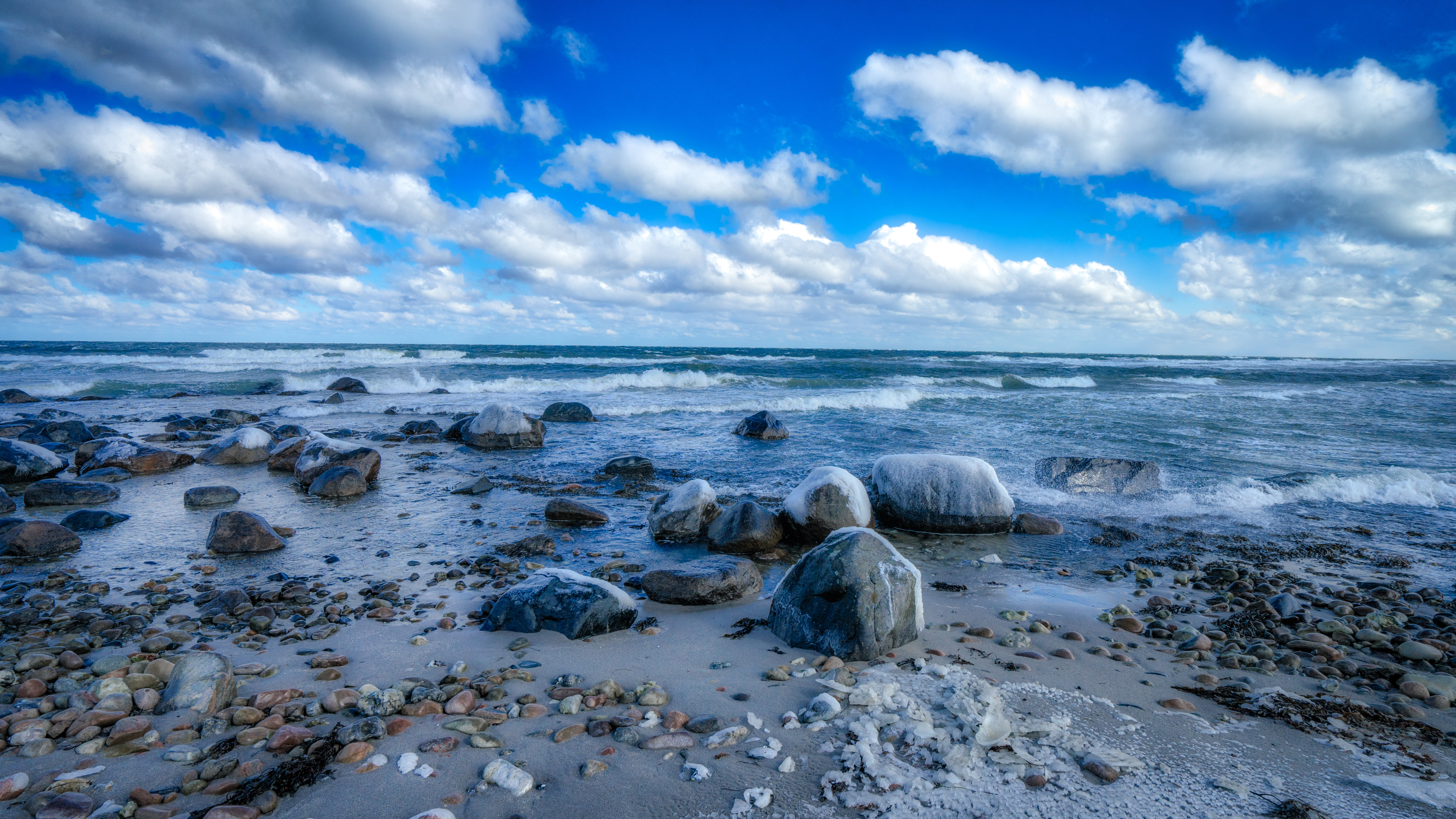 Moving on to the actual tip of the land tongue, we found ourselves on another beach every bit as brutal as the one we had just left. By this time I had somehow managed to zone in to my usual viking mode where cold doesn't affect me much. I could still feel the pain of icy wind on my exposed skin, but this time it didn't take away my focus or my ability to operate the camera. The result was another batch of images that I'm rather proud of, including these two... and the selfie that you see at the top of this post.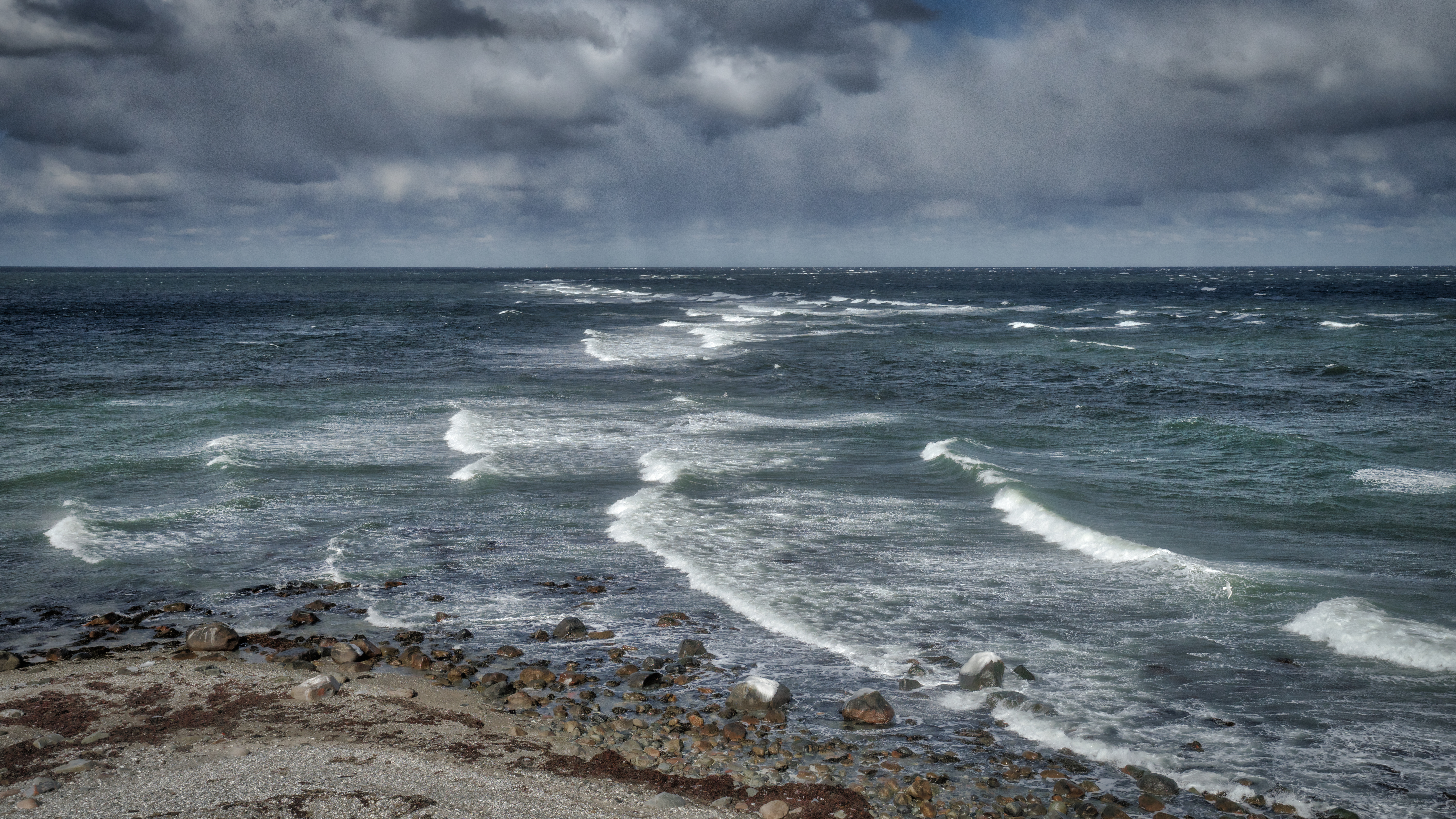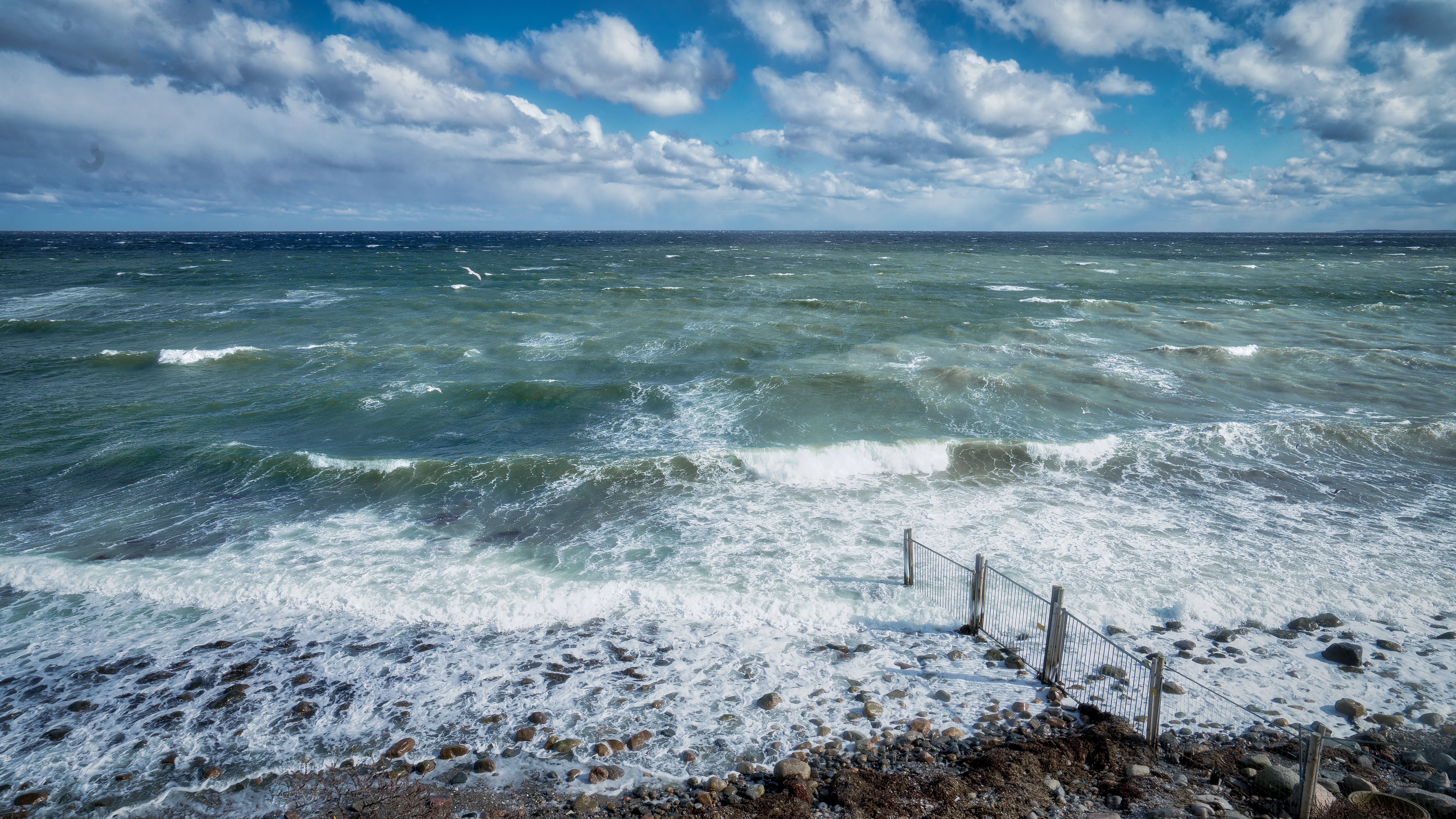 Our next stop was the small ferry town of Rørvig (don't even try to pronounce it if you are not Danish). We were met by another freezing sledgehammer, but the light was spectacular. Out over the sea, snow showers lingered while the sun set fire to the water. I snapped away and caught these decent images along with several others I was happy with.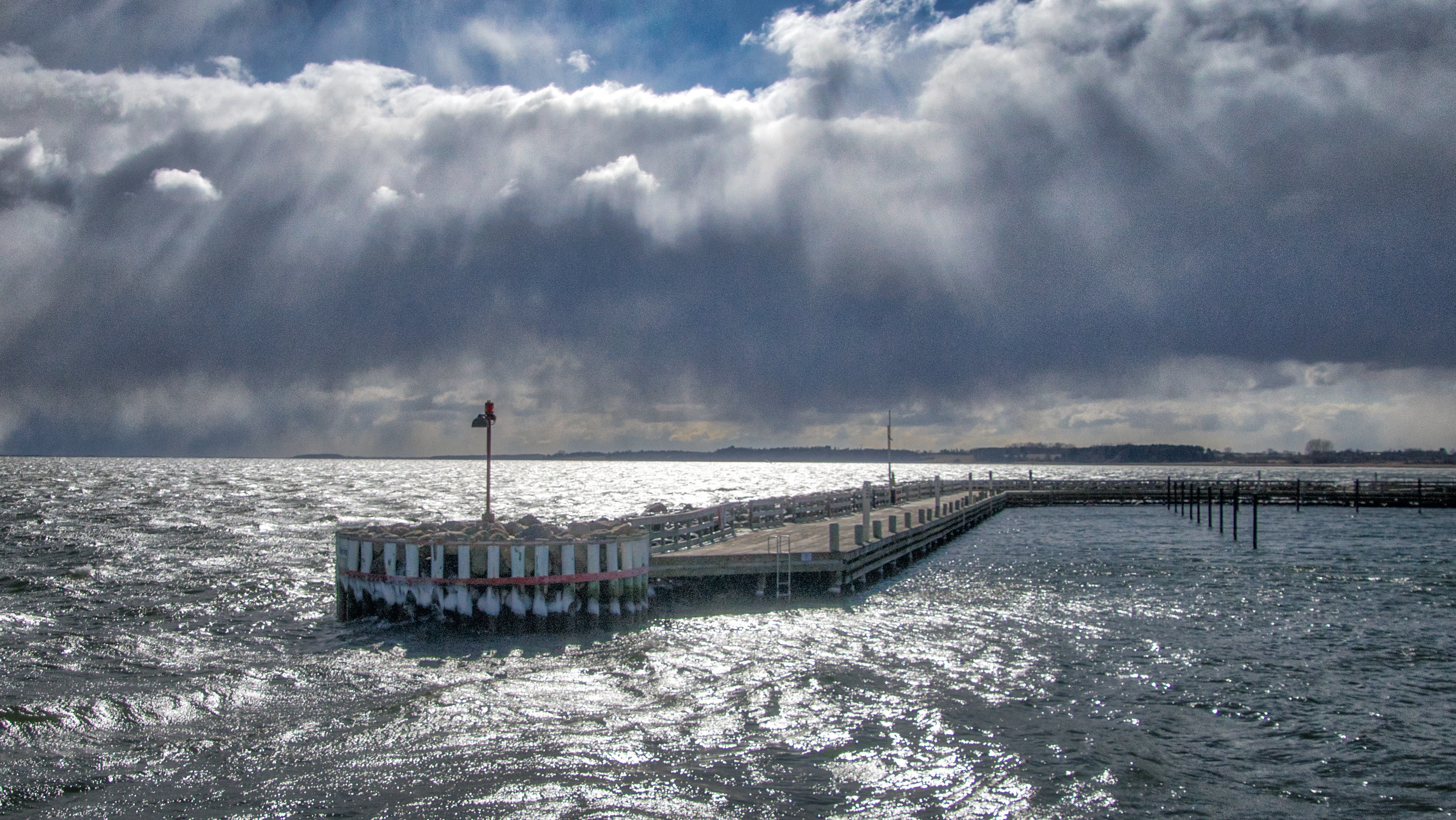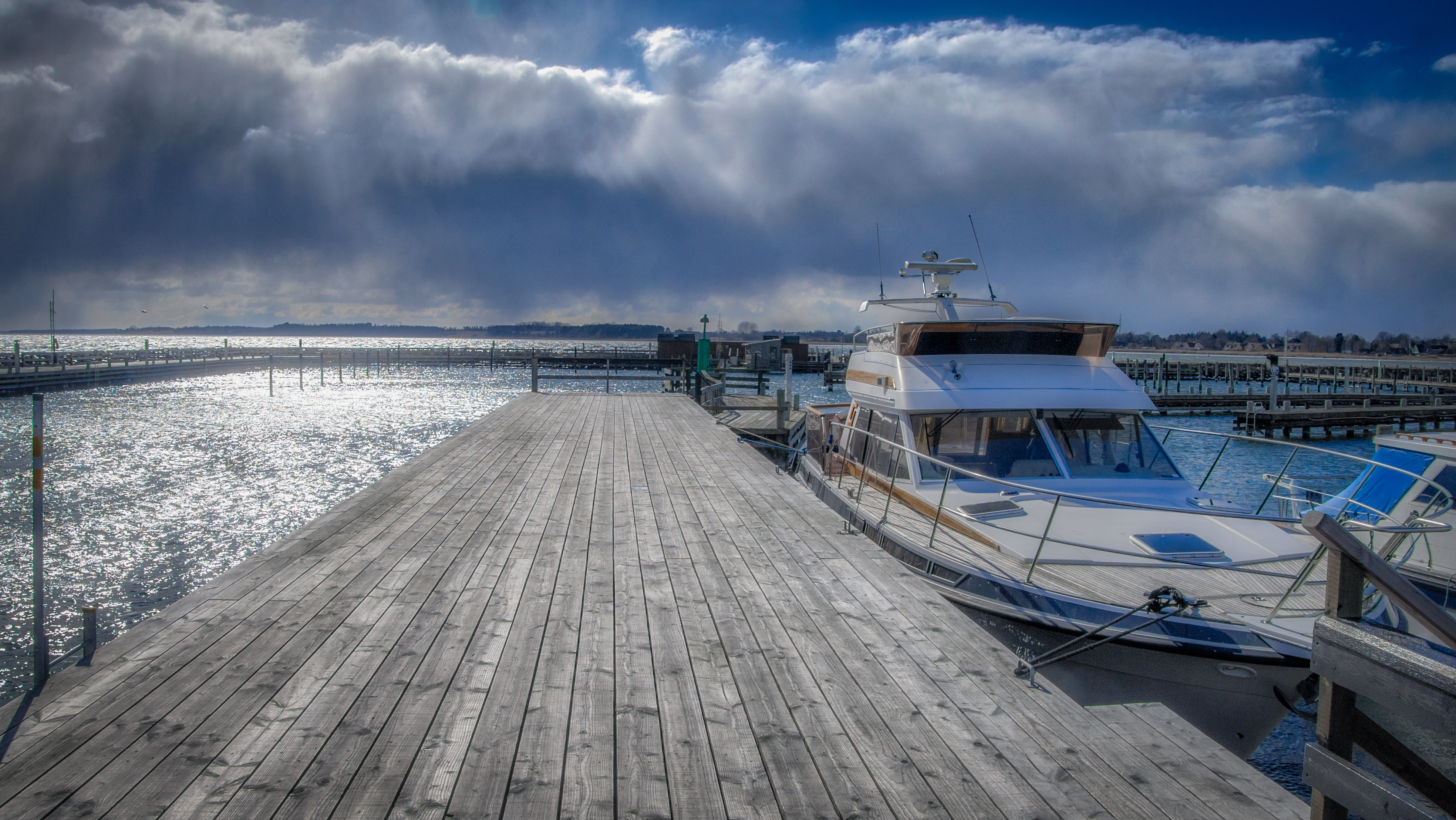 Our last stop of the day was at the old castle ruin of Næsholm, "ruin" being the keyword. There is practically nothing left of whatever it once was, but it was still more than worth a visit. It's located on a small island in the middle of a lake. A boardwalk bridge leads out to it, and once you are there, you are in your own tiny, little world, at peace with yourself and nature. At least, that's how I felt. Birds were everywhere, the wind was rustling in the tall grass, and there was no discernible human activity within hearing distance.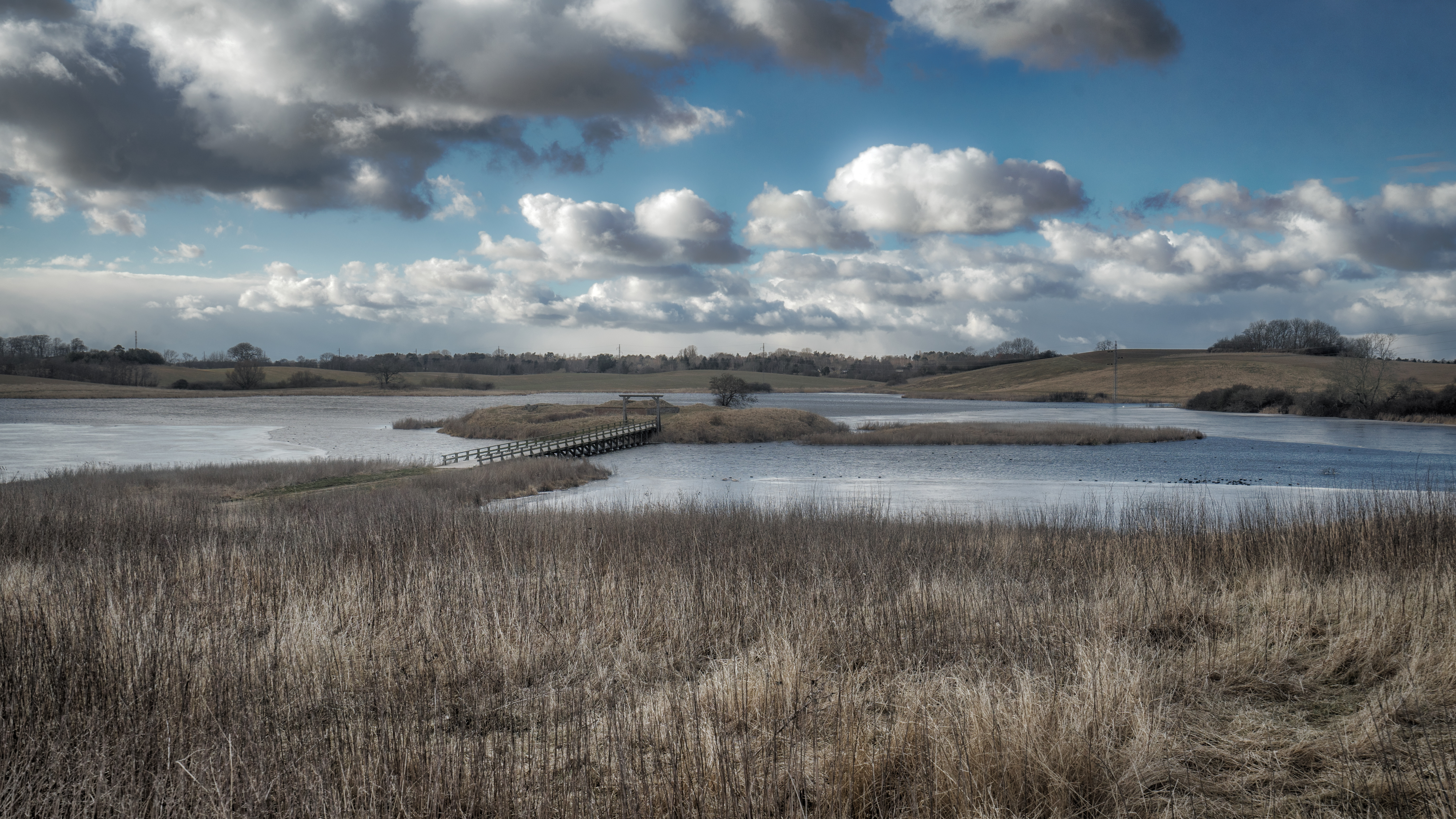 As far as the ruin is concerned, the image below pretty much shows it all.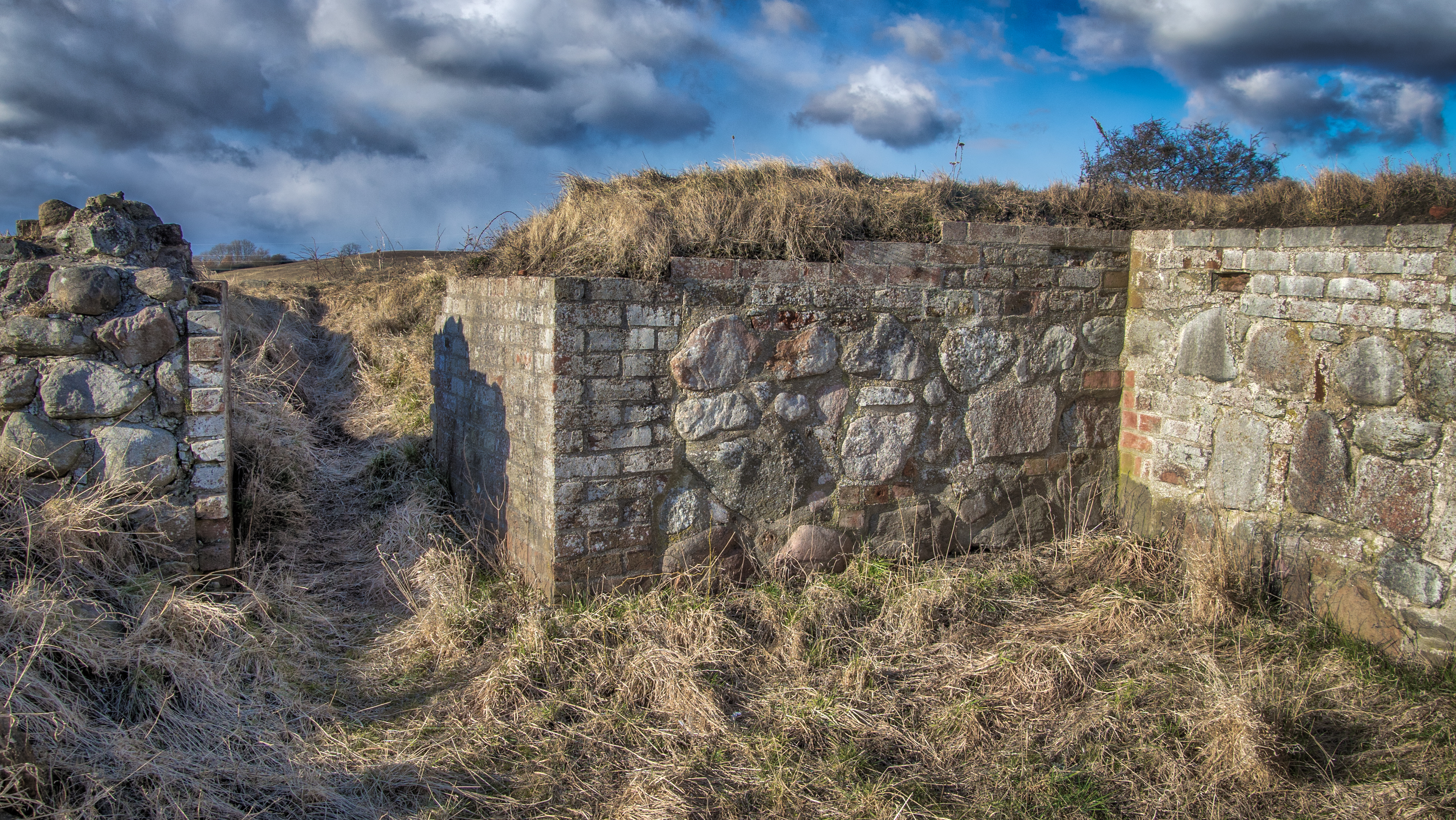 The water surrounding the lake was halfway covered with ice, making for another interesting photographic subject.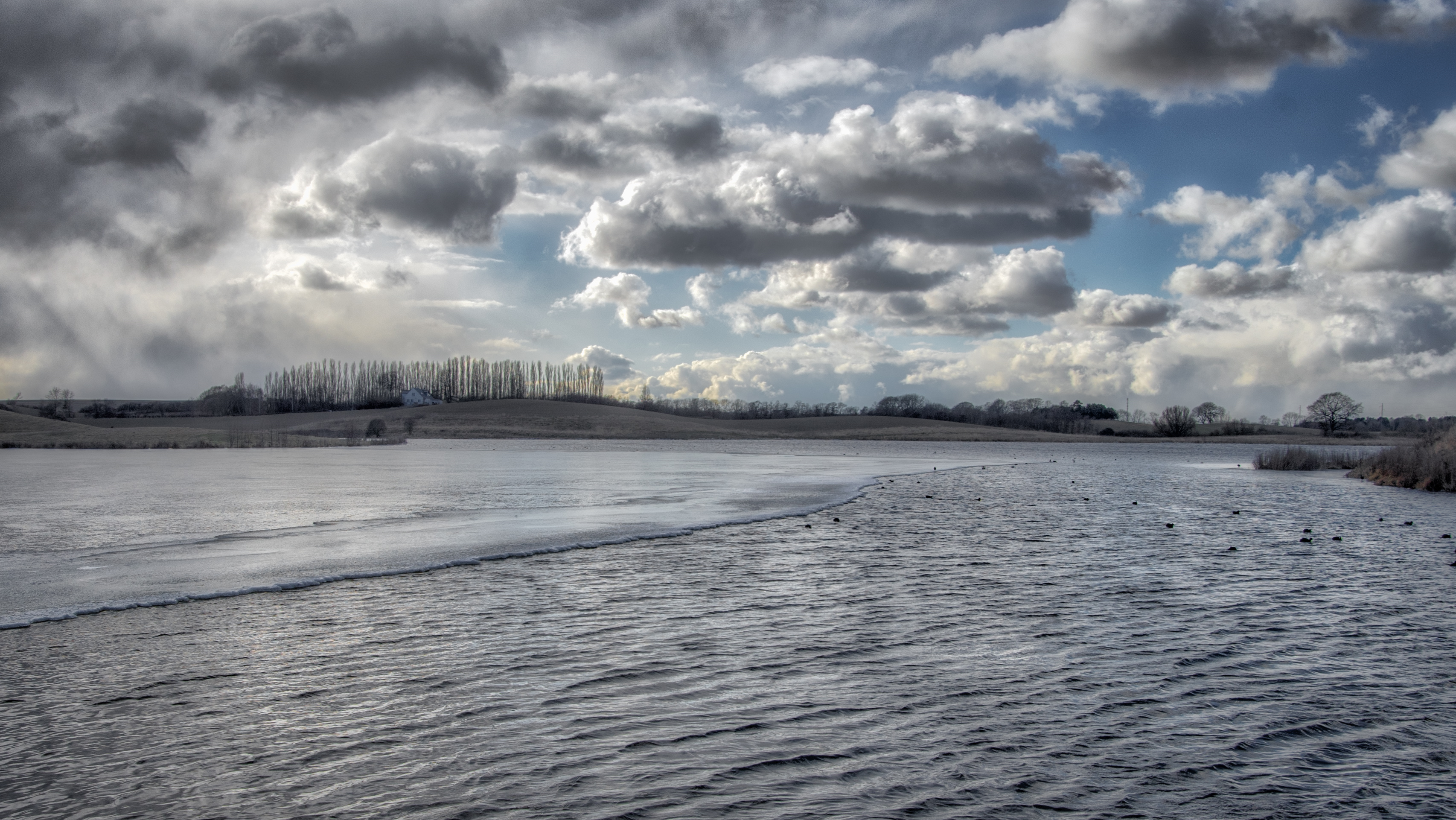 After spending way too much time at Næsholm, we headed back to the hotel for some much needed warmth. It had been a busy day with lots of stops, but there were still a few places left to see. So the next - and last - day we headed out to climb some of the famous peaks of the Danish landscape. Our first stop - Esterhøj - is a whopping 89 meters above sea level (almost 300 feet!), but that didn't stop us. We donned our ropes and helmets and walked up the stairs to the top.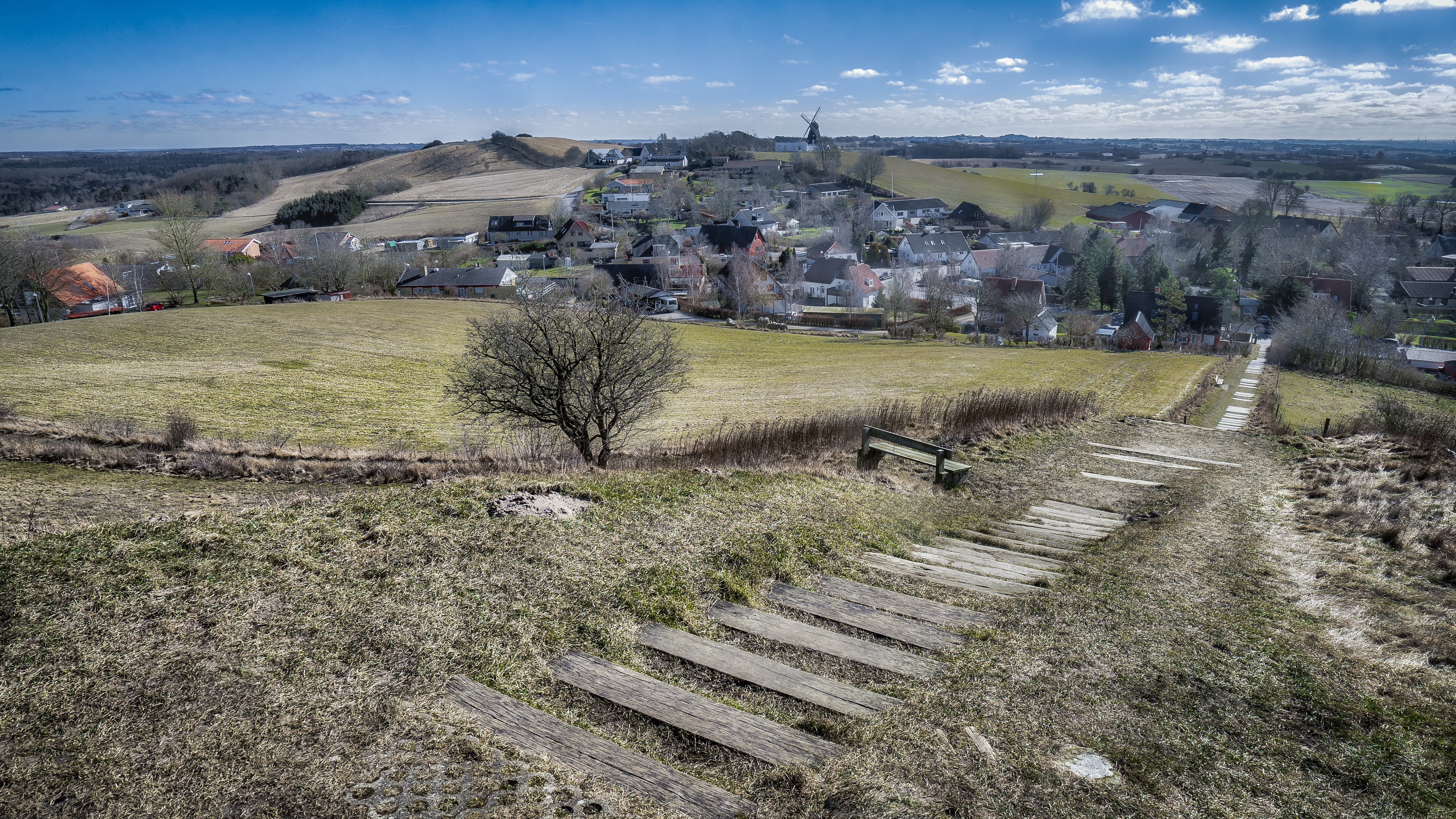 The view was actually quite awesome. It was a clear day, and you could see for miles in all directions. The problem, photography-wise, was the harsh middle-of-the-day light and the fact that big, rather featureless landscapes don't make for great images. There are no majestic mountains to serve as a backdrop. On this day there weren't even some dramatic clouds to spice things up.
So what I did was to listen to the miniature Thomas Heaton I've got sitting on my shoulder and look for the small, interesting details in the landscape. I put on my 18-270 mm Tamron lens, zoomed it all the way in and scanned the landscape for compositions. And came up with this: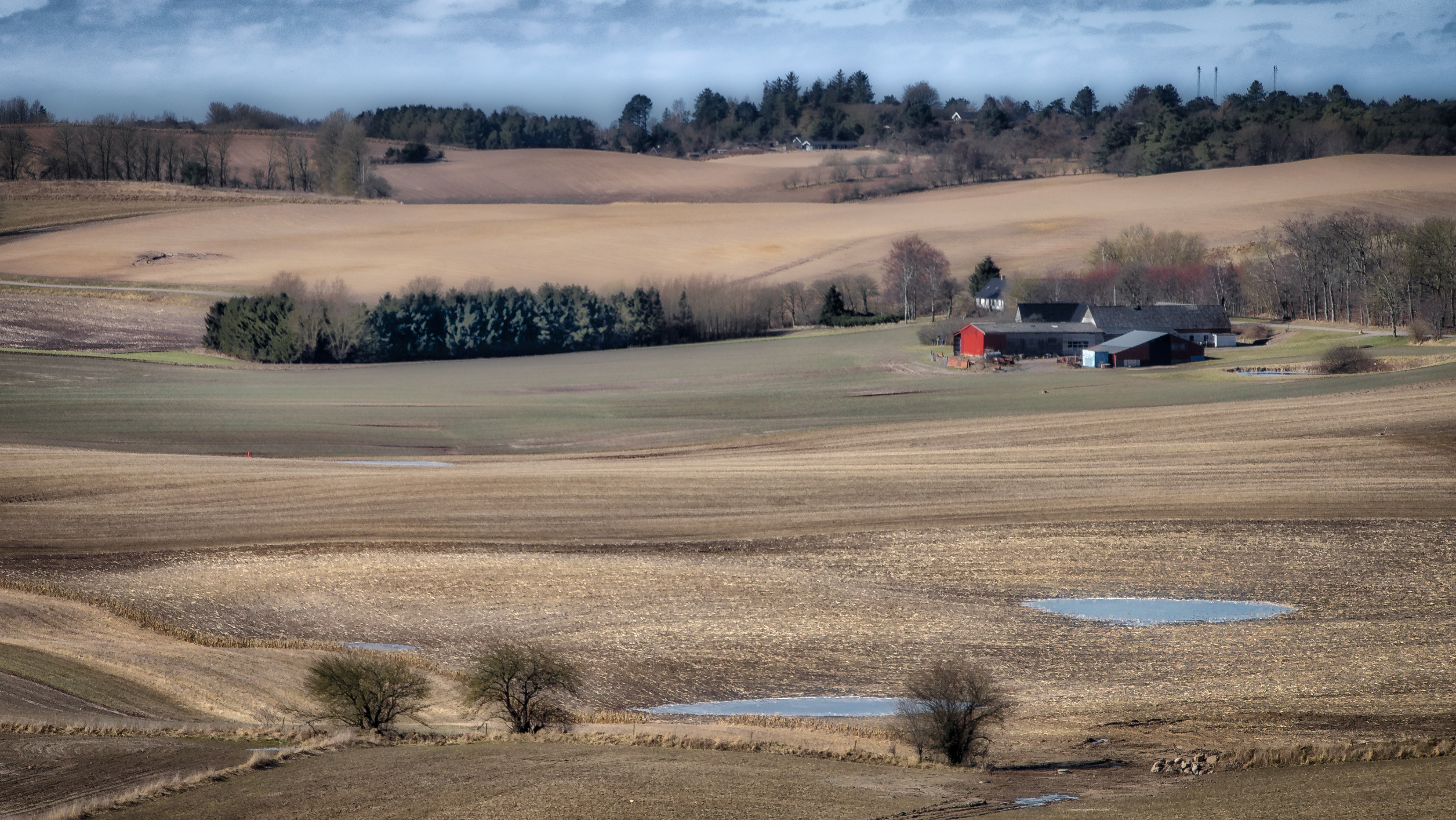 I'm actually quite pleased with it. The lens is not the sharpest in my collection, but what the image doesn't have in sharpness, it makes up for in zen-ness.... or something.
I used the same procedure for the next image, which was taken from the top of another famous hilltop, Vejrhøj. Again, the sharpness leaves a lot to be desired, but there was something about the shape of the coastline that intrigued me. And look at those white waves. They were actually moving offshore in the strong eastern wind.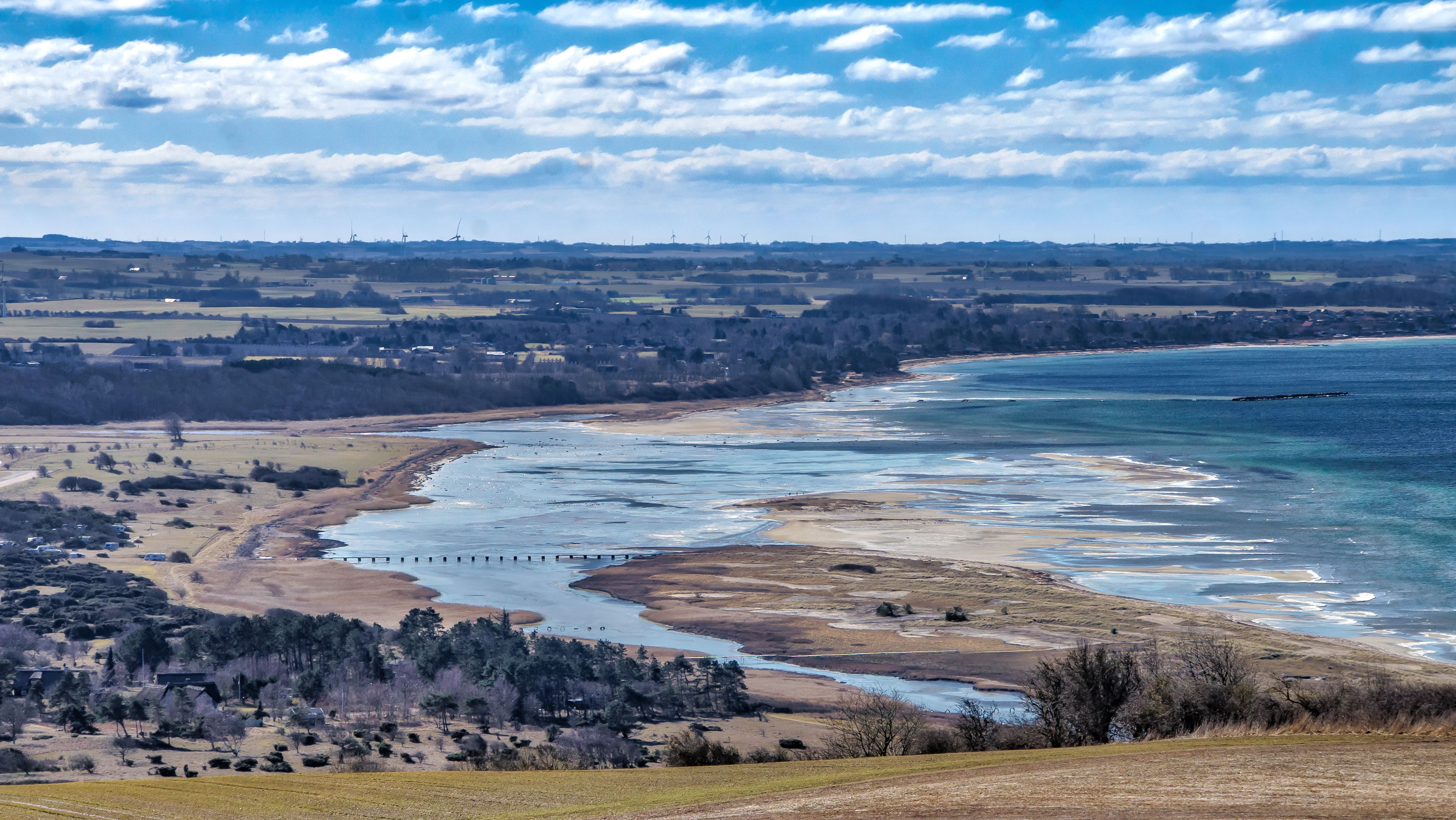 The last image was taken walking off down from Vejrhøj through a patch of woods. As described in my last post, taking good pictures of a dreary, gray, snow-less winter landscape is a challenge, but it's actually even harder to take pictures of a sunny, snow-less winter landscape. It's sort of neither here nor there... It's not dreary and it's not uplifting, so it easily becomes just blah... But the below image was one of the few I took in that forest that I felt pretty good about.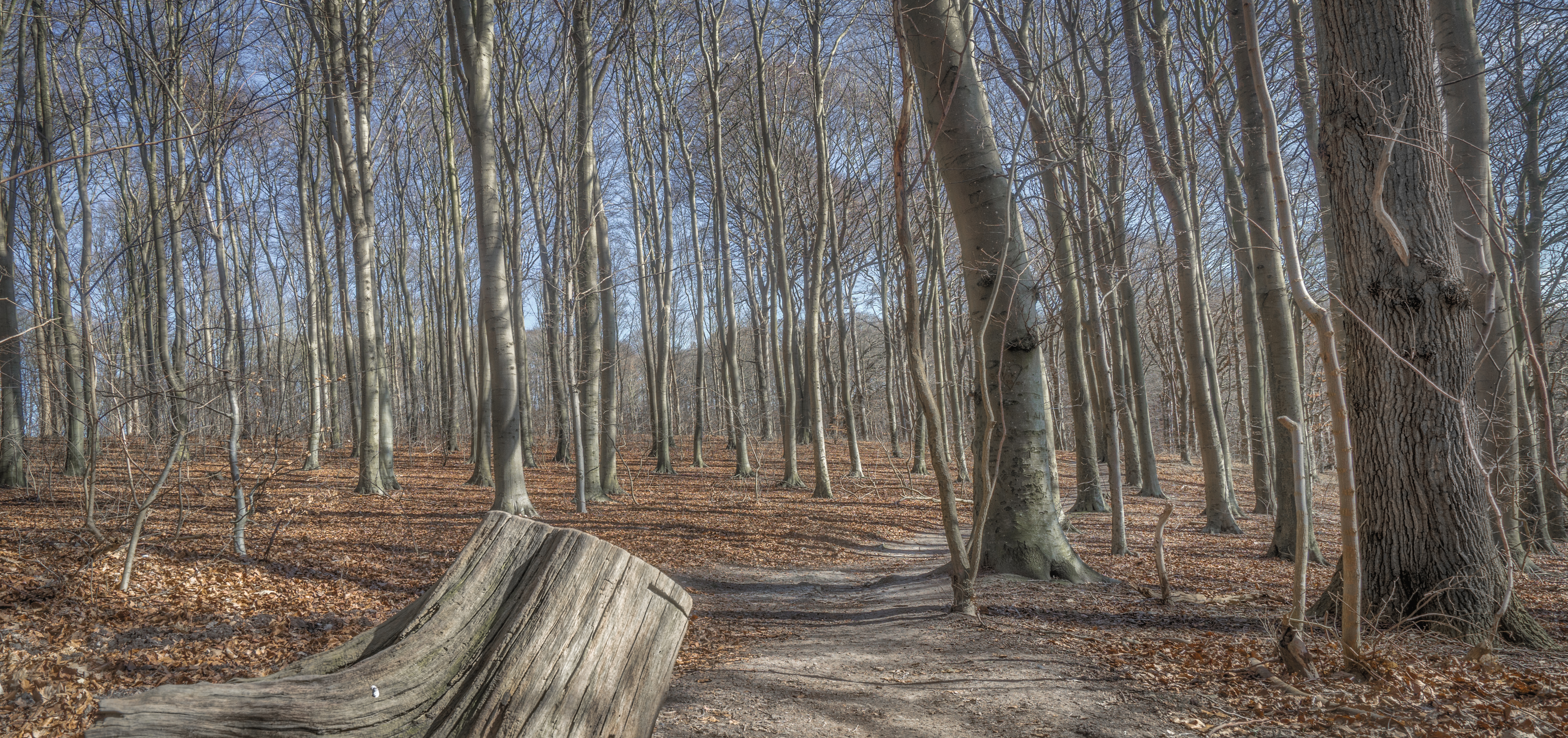 Apart from a solid lunch at a steakhouse in the town of Holbæk, thus ended our weekend adventures and, soon after, the magnetic North Pole's passage of Odsherred. As much as I enjoy just walking around my own neighborhood taking pictures of well-known locations, there is nothing like new ground far away from home to boost your motivation and skills. You don't have "tomorrow" or "tonight at sunset" to go out and improve the result. You need to get the best out of it here and now, bad light, freezing cold, and lack of time be damned.
For all those obstacles, I think I could have done worse.